Creating a Wheelchair-Friendly Home: A Complete Guide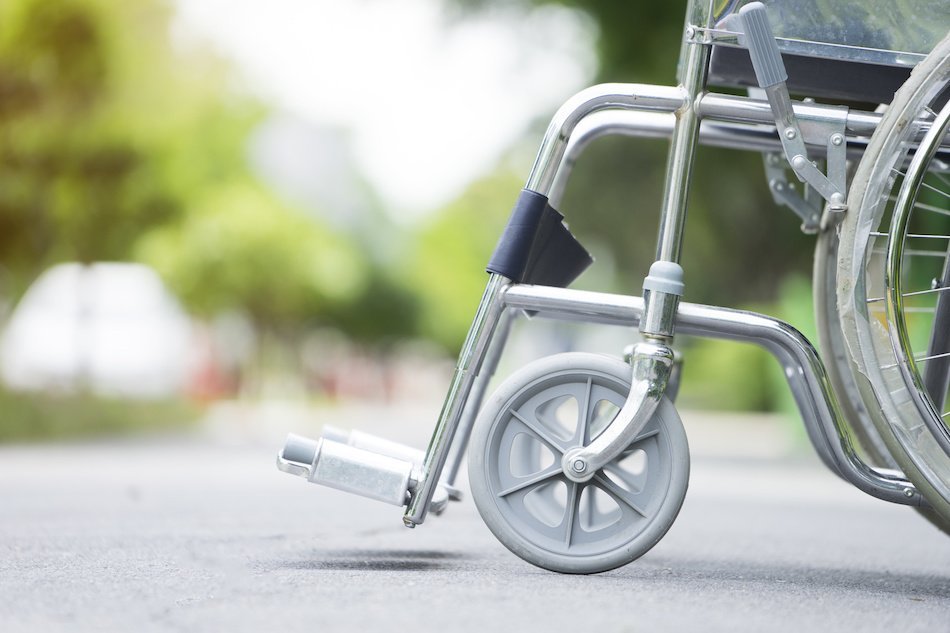 A household can find themselves in need of a wheelchair-friendly home for a variety of reasons. Someone may experience a fall or a household member may become disabled due to an accident, injury or illness. Additionally, more and more households are simply planning for aging in place where inhabitants can eventually benefit from home modifications to prolong their time in their present homes. Even when wheelchair use may only be for a few months, there are some steps that can be taken to make a home easier to maneuver and enjoy. When wheelchair use will be long-term, it may be prudent to consider permanent, physical changes in a home that can make life easier for everyone.
Creating a wheelchair-friendly home generally involves removing barriers and making daily necessities more accessible. It can involve a few rooms or the entire home. There are some simple DIY projects that can make an immediate impact and others that may involve more extensive renovations. One might also consider the area they live in (if they are looking for a place to live). For example, if you enjoy spending time outdoors, Hermosa Beach has a number of accessible trails that may be of interest. This guide is designed to take a complete look at a home, interior and exterior, room by room, and area by area, to help households better understand what it takes to make a home wheelchair friendly.
Table of Contents
Home Interior Accessibility Tips
Doors
Doors can provide a variety of barriers to those in a wheelchair including the door's width, the door itself, the room it opens to, and the threshold in the doorway.
Wheelchair Accessible Door Width:
Doorways should be at least 32" wide to accommodate passage of a wheelchair. Comfortable passage is typically realized at 36". A wheelchair-friendly home will ideally have a minimum of 36" doorways throughout. Unfortunately, many residential doorways can range from 23" to 30". Door trim and the door itself can also impede passage through a doorway. When considering the total number of doors in a home, this can initially appear to be daunting to address, but homeowners have options.
Installing offset hinges — These allow doors to swing clear of the doorway adding perhaps up to an inch of clearance. Sometimes referred to as "Z" hinges, these can be relatively easy and inexpensive to install and create just enough space to accommodate a wheelchair.
Removing doors or trim — In many cases, doors may simply be removed to provide enough clearance. Doors may be replaced by curtains or other options for privacy. In some cases, removing door trim may also improve passageway clearance.
If the above options don't provide enough additional space, widening the doorway is the next option. If there are sharp turns immediately prior to or after a doorway, a 32" door may not be wide enough. If the home physically allows for it, a 36" or even 42" door may be preferable. This will involve some construction as the frame will need to be widened. This may even include moving light switches, which often are placed near the original door frame. When considering a wider door, one will want to take into consideration if the door can swing fully open, or if it will be stopped by a wall. This too will impact the final width of the passageway.
Another aspect of doors to consider are thresholds. While pushing someone in a wheelchair over a raised threshold may take minimal effort, it can take quite an effort for the user on their own in some cases. They may feel the need to build momentum in getting over a threshold, creating hand injuries or damaging door frames. This can be resolved by minimizing the height of thresholds or replacing them with cushioned ones that will flatten as the chair rolls over them.
A final consideration regarding doors is the door handles themselves. Some wheelchair users may find it challenging using a traditional doorknob due to hand muscle atrophy or their ability to reach. This barrier can be minimized through use of lever-style door handles.
Lighting
An often overlooked aspect in creating a wheelchair-friendly home is lighting. It helps to understand that household lighting is generally designed for those who have the ability to stand or walk, and that this design can cause a variety of issues for those in a wheelchair.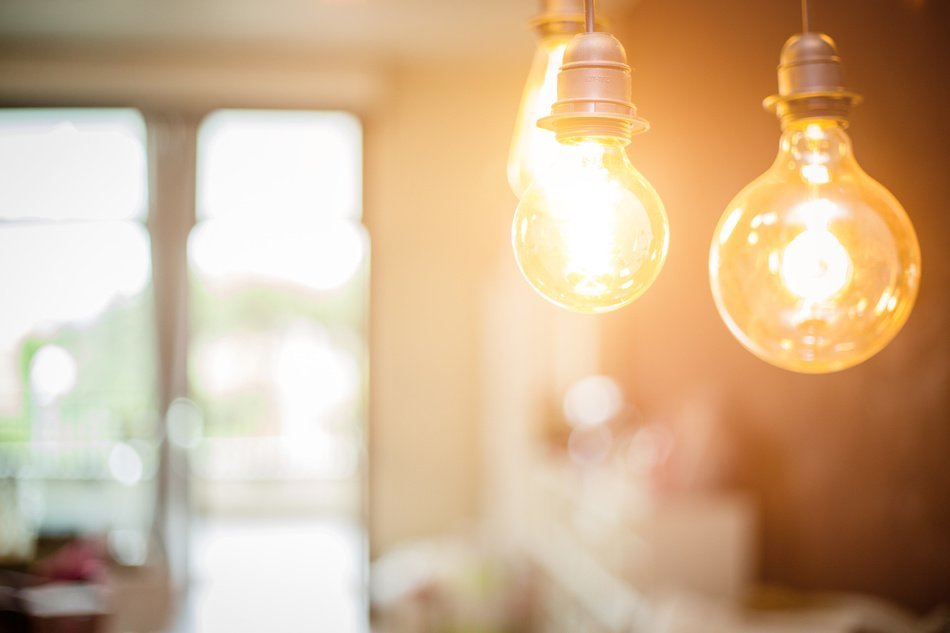 One significant aspect in creating a wheelchair-friendly home is addressing the issue of glare. When someone is at wheelchair height, they can struggle with glare from under-counter lighting and other recessed lighting options that may be fine for others in the household. Discovering lighting glare problems can be as easy as having the person in the wheelchair taking a tour of the home and experiencing the lighting. Oftentimes, glare problems can be resolved by lowering the position of lighting, offering alternative lighting resources or using reduced glare bulbs.
Another source of problems for wheelchair users is the position of light switches. Light switches placed behind countertops for example, can be difficult or impossible for someone in a wheelchair to reach. Others may struggle to reach switches that are too high or located near doors that may have to be held open to reach them. Wheelchair-friendly light switches should be placed at a height of 36 inches. Switches behind counters or at heights at 44 inches or more should be relocated. When moving light switches, strongly consider changing to larger, easier to manipulate rocker switches.
Navigational lighting can be a benefit to everyone in the household, and may be seen as an added benefit to home buyers looking at your community. Today's LED lighting is perfect to help guide users down hallways and to doorways when it is dark. Place this lighting at the base of floorboards to better illuminate travel lanes. Additional lighting can be beneficial around door locks and handrails. The value of this lighting can be increased by making it either solar or motion activated to minimize struggling to find switches. When it comes to lighting, attention should be paid to highly used and traveled areas of the home to make the best use of available resources.
Flooring
When choosing flooring for a wheelchair-friendly home, there are four basic factors to be considered. You'll want a surface that is slip resistant, easy to maintain, one that wears well and one that is easy to maneuver in a wheelchair. Here is a look at some wheelchair-friendly flooring options:
Laminate Flooring
Laminate flooring is sometimes preferable to real wood flooring in that it will wear better under extensive use of a wheelchair, is arguably easier to maintain, and is less expensive to replace. This doesn't, however, mean one should immediately replace current natural wood flooring in a home with a laminate alternative. Most laminates have slip-resistant surfaces and are very easy to roll over in a wheelchair. There is no need to sacrifice design elements in choosing a laminate surface. Today's laminates include everything from rich looking woods to natural stone and slate replicas.
Ceramic Tile
Ceramic tile seems to be a natural for a wheelchair-friendly home. It is relatively inexpensive, flat, hard, slip-resistant, and easy to maintain. Spilling most liquids on a ceramic tile floor is not an issue if the grout lines are properly sealed. Choosing larger ceramic tiles can provide a smoother surface to travel due to less grout lines. The one challenge with ceramic flooring is that is hard and unforgiving to dropped objects/phones/etc. Ceramic is also appealing because it is perfect for bathroom and kitchen areas where water is present.
Vinyl
Vinyl flooring is available in two basic formats: tile or sheets. It is affordable, versatile, available in a variety of patterns, generally slip resistant, and easy to install. When choosing flooring for a wheelchair-friendly home, consider wear patterns. If sheet vinyl begins to show wear, you may have to consider replacing the entire surface. With tile, a homeowner may be able to replace just worn tiles. Vinyl is excellent at resisting moisture but has one weakness: It can be marked or marred by sharp edges. That should not, however, be a problem when used in areas that will sustain wheelchair traffic.
Carpeting
Many wheelchair users can maneuver over certain carpeted surfaces relatively easily, with few exceptions. If carpeting pile or padding is too thick, it can provide resistance to the wheels of a wheelchair. Low pile or commercial grade carpeting is often the best choice for homes where a wheelchair user resides. Pile that is 1/2" thick or more can be most difficult to negotiate. Of course, carpeting is not the best choice in areas where moisture is present like bathrooms or kitchens. Over the course of time, even low pile and commercial grade carpeting will show signs of wear. Unless present carpeting is extremely thick or soft, replacement is probably not necessary to make a home wheelchair friendly.
Ultimately, you'll want to consider a flooring choice that meets the needs of the wheelchair user, while providing a surface that is easy to maintain, durable and aesthetically pleasing. The good news is there are multiple options and choices for all budget ranges. As a general rule, area rugs are not recommended on top of these surfaces, as they will typically impede one's ability to maneuver in a wheelchair.
Hallways
Typically, hallways need to be a minimum of 36" wide to accommodate a wheelchair, but 48" is considered to be the ideal minimum (and is required by law in most commercial establishments). Keep in mind, this is for a straight entrance-way to doorway type hallway where no turns will be needed. If a turn will be necessary to enter a room that is along a hallway, 36" clearance or more will be needed in all directions for enough room to make the turn unimpeded. Remember, making a "spin" turn in a wheelchair can be problematic if the turn is being made on an unsecured area rug.
One of the easiest steps to take in making hallways wheelchair accessible is to clear the hall of any potential obstacles. This can include side tables, coat trees, shoe racks, and decorative items. Where clearance is minimal, removing large or low hanging artwork from walls may be necessary.
If a present hallway is not wide enough to be considered wheelchair friendly, and there are no other living arrangements available in the home to avoid use of the hallway, homeowners may be left with no choice but to widen it. First, determine if either hallway wall is load bearing. Once that is determined, moving the non-load bearing wall will be much easier and more cost effective. In most homes, nearby rooms will have to be expanded or contracted to allow for the added hallway width.
When a wall must be moved, it is a good idea to adjust the hall to the American Disability Act (ADA) standard 48" width (minimum) for hallways. This will make life for the person in the wheelchair much easier, especially where turns are necessary in a hall. It may also be a good time to consider wider doorways along the hall, especially if expansion will make an end of hall doorway off-center.
Bathrooms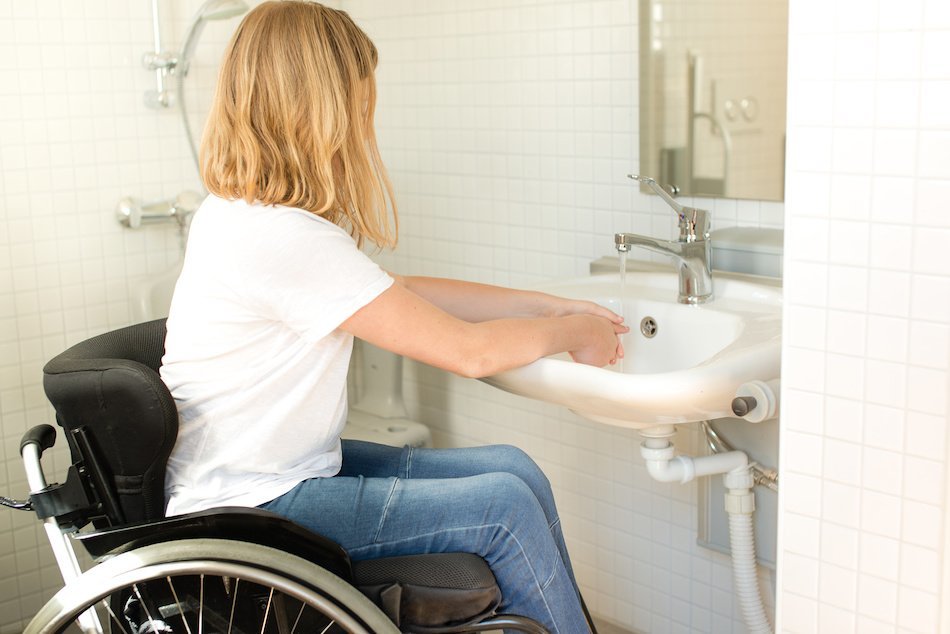 Bathrooms can be one of the more challenging areas of a home to retrofit into being wheelchair friendly. Those fortunate enough to have a larger bathroom will find the remodel much easier. While you're at it, you might want to consider making a few other changes to the bathroom that could increase your resale value. Smaller bathrooms will present unique obstacles, but accessibility should still be achievable nonetheless.
Clearance between any immovable barriers should be a minimum of 36". In some cases, this may mean plumbing changes. There are three basic areas to address in most bathrooms. In the case of making them wheelchair accessible, there are also a variety of other considerations to keep in mind.
Toilet
The ADA recommends a seat height of 17-19" for toilets. This is a height that is both comfortable and makes transfer in and out of a wheelchair easier. There are multiple ways to accomplish this change of height.
Purchase of a taller toilet
Purchase of a wall mounted toilet to accommodate a specific desired height
The use of an elevated base to raise the toilet
Installing a thicker toilet seat designed to raise the seat height
Use of a plastic toilet seat insert to raise seat height
In some cases, where mobility is a problem, a bidet may be an option for a wheelchair-friendly bathroom. Ideally, two grab bars placed no more than 36" apart on either side of the toilet is preferred. If that is not possible, installation of a single grab bar within 18" of the nearest wall is an option. There are also grab bars available that install on the rear wall where side walls are not available.
Toilet paper holders should be placed slightly forward of the toilet seat. In cases where inches matter, consider a flush mounted toilet paper holder.
Sink/Vanity
Wall-mounted sinks that provide a minimum of 27" knee clearance are most often the best choice for a wheelchair-friendly bathroom. This allows a user to get closer to the sink and faucet. Sink rim heights should be mounted no higher than 34".
Seemingly little things like a choice of faucet handless can make life just a bit easier for a wheelchair user. Single handle faucets are preferred over grab-and-twist type choices. Home faucets are available with sensors that can determine when a user's hands are under the faucet. Make sure there are hand towels available at wheelchair height and that frequently used personal care products are accessible.
Mount mirrors just above sink height and make them large enough so they can be used by other members of the household. Shock proof GFCI electrical sockets for electric dryers and shavers should be placed at a convenient height where water may be an issue.
Shower/Tub
If a current shower is accessible, it may be able to, in some cases, accommodate someone in a wheelchair through a series of grab bars and a fixed or portable shower seat. A minimum of 36" access is necessary for a transfer into a shower. Grab bars should be installed at both sitting and standing heights. Some choose to install longer grab bars at an angle that accommodate both standing and sitting.
In many cases, more substantial alterations may have to be made.
For those who prefer a tub, walk-in tubs are a good option. These are designed so users can enter the tub without having to climb over sidewalls. Instead, a self-sealing door keeps water in the tub. Make sure faucet controls are installed convenient to the user.
There are low and no threshold showers available that can easily accommodate a wheelchair. These showers have floors that flow to a drain, away from the doors edge to manage water. It is critical that shower floors have a textured, non-slip surface to help prevent falls. Such showers should be at least 60" wide to allow for a complete turn of a wheelchair. They should include a handheld shower head with a minimum 60" hose and faucet controls that are accessible. Showers should include standing and sitting height grab bars and personal items and bath towels should be conveniently located.
Other Considerations
Adequate clearance is critical in making a bathroom wheelchair friendly. As in other areas of the home, rocker light switches that are placed lower for wheelchair users can add to the convenience of the room. Shiny glass surfaces and mirrors can add to the glare problem in bathrooms for users in wheelchairs, so steps should be taken to avoid these issues. Wheelchair users may also be tempted to use towel racks as grab bars, so make sure they are solidly installed. Better yet, make sure there are enough specifically installed grab bars to allow for easier maneuvering in the bathroom.
Bedrooms
Making a bedroom wheelchair friendly is comparatively easy compared to some other spaces in a home if there is sufficient space in the room. Bedroom size is somewhat finite (unless you opt for an expansion), so choosing a home with ample space is key. For example, larger homes in Palos Verdes Estates may be more optimal for some than a downtown efficiency condo. This is why bed size is so important in setting up a bedroom for someone in a wheelchair.
The difference between the width of a single size mattress and a full-size mattress is 15" (39" vs 54"). King and Queen size mattresses are 5" longer than single or full-size mattresses. In addition, a King size mattress is 16" wider than a Queen (76" vs 60").
Another significant factor to consider is the mattress height. The seat height of standard wheelchairs is 19-20" above floor level. That means any mattress taller than 21" above floor level will force the user to climb up onto the bed surface. Of course, a softer or pillow top mattress will provide some "give" so mattress height could be slightly taller with theses types of mattresses. Since many wheelchair users dress on the side of the bed, it is a good idea to pay extra attention to the construction of the side of the mattress. Beds should be placed with access from both sides, with a minimum 36" wide access on one side. The other side should allow for a 5' turning radius. If space allows, an additional 5' turning radius at the foot of the bed can be beneficial.
Along with a 36" entrance-way width, bedrooms should have a minimum clearance of 36" from obstacles like furniture. If an entrance has a threshold that is difficult to overcome, it can be replaced with a lower profile threshold or altered with a threshold ramp.
Clothing storage takes some thought and perhaps some slight remodeling, especially when it comes to closets. Rods for hanging clothes could either be lowered or there are pull-down rods available. Off the floor shelving can be helpful for shoes and folded clothing storage.
Chest of drawers and dressers should be no more than 4 or 5 drawers tall, depending on drawer depth. Lowest drawers should be used to store items that are rarely worn. Most accessible drawers should be used for frequently worn clothing. Drawers generally extend out about 10", so that should be kept in mind when determining available floor space. Keep dressers far enough away from bedroom doors to allow them to swing open all the way.
A nightstand should be conveniently placed near the head of the bed with either a touch lamp or a rocker switch reachable from the bed to control lighting.
Kitchens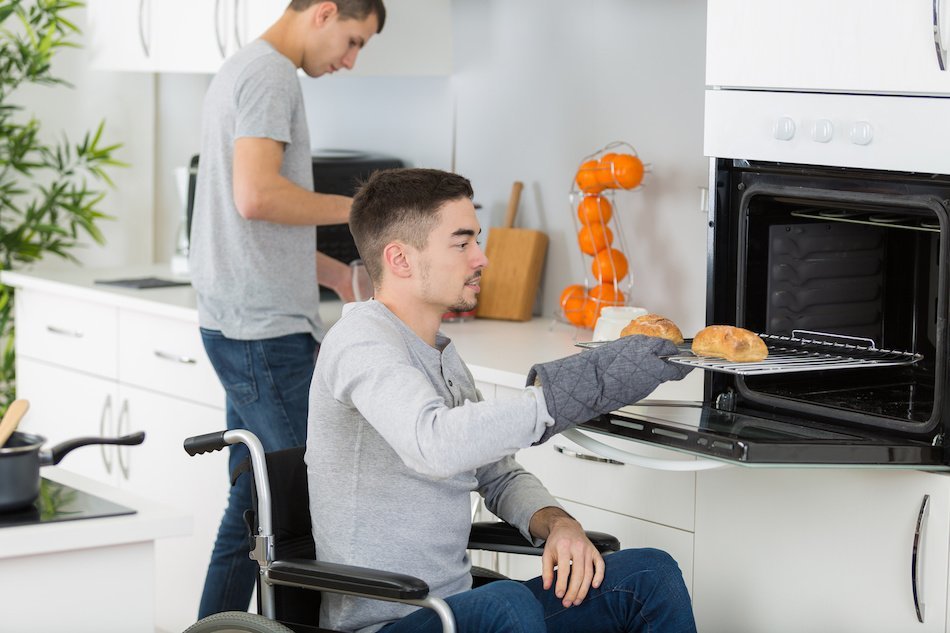 The extent to which one will want to make a kitchen wheelchair friendly will likely depend on how and how frequently the person in the wheelchair intends to use the kitchen. Along with the normal 36" clearance between obstacles and 5' turning radius areas, there are four main aspects to consider in an accessible kitchen. They include countertops, sinks, cabinetry, and appliances. There are also some other considerations homeowners will want to keep in mind in retrofitting a kitchen to be wheelchair friendly.
Countertops
Countertop height will usually be the single biggest factor in making changes to a standard kitchen. While work surfaces are generally placed at 36", they will be need to be lowered to 28-34" inches to make them wheelchair friendly. Countertop depths should be no wider than 30". Homeowners should keep in mind that not all countertop space needs to be lowered. This will depend on if the kitchen will be used by others. Depending on the situation, lowering a section of countertop can be a sufficient solution.
Whether lowering all countertops or making partial adjustments, those in a wheelchair will require leg, knee and toe space to make the area accessible. This knee space should be a minimum of 27" high and 8-11" deep. This may require removal of base cabinets, but they can be replaced with portable, roll-out style cabinets to maximize storage. Pull-out style cutting boards and work surfaces can also serve to extend countertop space.
Sinks
Like countertop workspace, sinks will need space underneath to allow for a wheelchair user's knees and legs. There are sinks designed with drains near the rear of the sink to facilitate this. This allows drains to be moved back, away from the legs and knees of a user.
Faucets should be single lever for convenience and a hose sprayer is often useful. There are "hands-free" sinks available if desired. Faucets can also be side-mounted for greater accessibility. A small slide out drawer or cabinet near the sink can be handy for cleaning supplies.
Cabinetry
To make a kitchen truly wheelchair friendly, there will likely need to be some dramatic changes made to the cabinetry in a kitchen. This will include lowering upper cabinets to a usable height and eliminating some lower cabinets to allow leg and knee space so users can get to work surfaces. These changes could coincide with cabinet refurbishing if you feel they're visibly outdated.
Upper cabinets can be lowered to a height that is most comfortable for the user. Lower, more accessible shelves should store more frequently used items like glasses, dishes, spices etc. Lazy Susan type cabinets can be invaluable in certain situations. Lower cabinets can be replaced with large, full-extending storage drawers for items like bowls and pots and pans.
Appliances
Generally, lowering appliances to a maximum height of 31" is a good idea, with the exception of a dishwasher. Dishwashers may actually have to be raised 6" or so to make them more accessible.
Along with lower stove and oven heights, it is important that stove top controls be placed at the front of the stovetop. This will prevent users from having to reach across potentially hot burners to turn them on or off. It is also beneficial to have separate oven and stove top units so they both be placed at accessible heights.
While not all items in a full-size refrigerator/freezer may be accessible, side by side or refrigerators with a bottom drawer freezer offer a bit more accessibility.
Other Considerations
Like in bathrooms, the glossy surfaces in a kitchen can often cause glare issues. This can be particularly true where under cabinet lighting is used. Dimmers and anti-glare lighting can help. Kitchens should be outfitted with GFCI sockets anywhere near water to prevent shocks. Light switches should be easily reachable and rocker switches used.
Furniture
When choosing furniture for a wheelchair-friendly home, there are some basic traits to keep in mind. Furniture that is sturdy and stable so pieces can be used as support is desirable. It's typically best to avoid sharp edges. Fragile and decorative choices made from glass are usually not the best option.
Traditional living room layouts that include a coffee table may not be practical. The 36" clearance needed around such a table will absorb a great deal of space. In addition, the low height of a coffee table limits its usefulness for someone in a wheelchair. Any tables chosen for a wheelchair-friendly room should be tall enough for everyone to use conveniently.
Chairs and sofas should be chosen based on height and firmness. Very soft, cushioned chairs and sofas my be comfortable, but they can be difficult to get up and out of. The same can be said for chairs and sofas that are too low in height. Choosing seating with solid, strong arms can be helpful in assisting wheelchair users to get into and out of chairs. If a recliner is desired, be cautious not to choose one where the user's legs are needed to return to a sitting position. There are powered recliners and those that have manual side assists to help in reclining and sitting back up. There are also lift chairs that provide an additional level of convenience.
The 30" height of an average dining room table is fine for wheelchair use. Pedestal tables that don't have legs at the corners can be a bit easier to maneuver when dining, while tables with rounded corners offer additional safety.
Today, it is not necessary to sacrifice design for practicality. Many manufacturers offer options that are suitable for wheelchair-friendly homes that also enhance the beauty of a room. There are also more furniture options designed for those with limited mobility. Keep in mind, less can be more when it comes to rooms furnished for easy access.
Home Exterior Accessibility Tips
Entrance/Ramps
Ramps are the most popular way to address elevation issues in entering and leaving a home in a wheelchair. While they may appear to be rather simple and straightforward, there are a number of design, measurement, and material factors that go into deciding an appropriate ramp.
There are two general types of ramps in use for home exteriors:
Free-Standing Wheelchair Ramps
Free-Standing wheelchair ramps are the most durable of wheelchair ramps, but they also can be the most expensive to construct. They can be designed to be either temporary or permanent and while wood is the most commonly used material in these types of ramps, aluminum is also a popular choice.
Wood ramps tend to be more permanent in nature because they require footings. They also offer opportunities for better customization to fit the appearance of a home. However, wood ramps may require maintenance over time, potentially including waterproofing, staining and board replacement. Following construction, wood ramps will need some form of non-slip material on the ramp flooring.
Aluminum ramps are usually available in a variety of components and modular systems and can be customized for a variety of applications. While they are more affordable than wood and generally come with slip-resistant surfaces, they can dent and may not fit as well aesthetically to a property if that is a concern. They are, however, more easily installed and put into use.
Threshold Ramps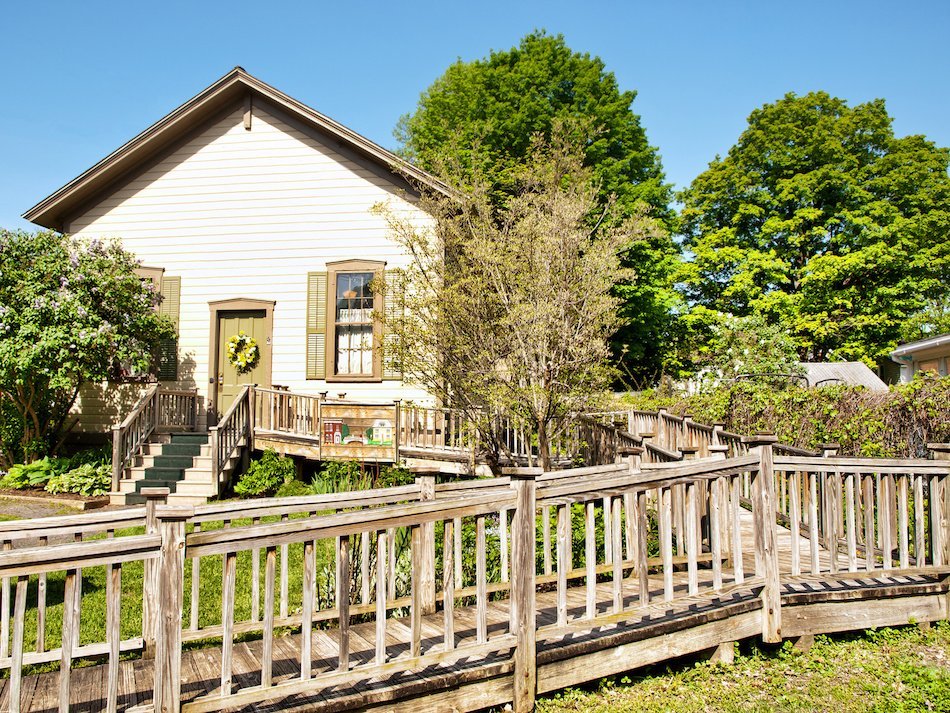 While free-standing ramps are the popular choice for overcoming exterior steps and level changes for entrances, threshold ramps can be sufficient when barriers are significant, but do not require a major height change. Threshold ramps can be used to overcome a curb-height barrier or a door threshold that can be problematic for a wheelchair user. They can be custom made for specific entrance-ways, usually out of a wood frame and a thick plywood surface. No threshold ramp should have an edge that exceeds 1/4".
Many households have found it useful to keep portable threshold ramps in a vehicle to accommodate wheelchair users when traveling.
Determining Ramp Dimensions
The width of an entrance ramp can be dependent on the user, but most often range from 36-48". It is the length that can vary widely.
The total running length of a ramp will depend mainly on the total vertical height that must be overcome. A ramp will generally extend one foot for every 1 inch of height. For example, if one must get to a doorway that is 3 feet above ground level, the total running length would be about 36 feet. This may require a ramp to be constructed in several back and forth sections. A wheelchair should never be used on a ramp that has more than a 14.5 degree incline.
Ideally, you will want to ensure there is a flat "landing" area between the ramp incline and the door to facilitate gaining access without risk of rollback.
Exterior entrance ramps are a critical component in making a home wheelchair friendly. They require careful planning and proper execution. When completed, a well-designed and constructed ramp will improve the quality of life tremendously for users.
Yards
The first step in making yards wheelchair friendly is making sure they are accessible from both the outside and the inside of a home. This may be as simple as adding some threshold ramps to a sliding doorway or may involve a more extensive wood or aluminum ramp. How much of a yard your home has is often dependent on zip code, but there's typically some outdoor space to improve if you're working with a single family home. It could also involve creating a pathway from another, more accessible exit to the home to the yard that doesn't have barriers.
Like in the interior of a home, smooth, hard surfaces work best in yards for wheelchairs. Concrete or asphalt surfaces are typically best for outdoor areas. If cement tiles are used, make sure the tiles are closely spaced. Paths should be 36" wide and turn areas of 5' square should be placed occasionally along the path. Grass, mulch or gravel do not make good pathways for wheelchairs.
Attention should be paid to make sure patio furniture is solid and substantial. Pedestal style tables can help provide ample knee space for dining out of doors. Normal backyard amenities like a sun umbrella are appreciated. It can be inviting to create an area in a clear, flat, solid space with a small, table nearby for beverages. If the person in a wheelchair enjoys gardening, allow for planting next to an accessible path. A raised garden can add to accessibility. Hanging plants can be lowered to allow tending by a person in a wheelchair.
Enjoying a wheelchair-friendly home means taking advantage of it inside and out. A few thoughtful steps can make a yard much more user-friendly.
Driveways/Garages
A wheelchair-friendly garage and driveway can be very important in the daily life of someone in a wheelchair. It provides more freedom and may allow access to a workshop, tools or even a laundry area.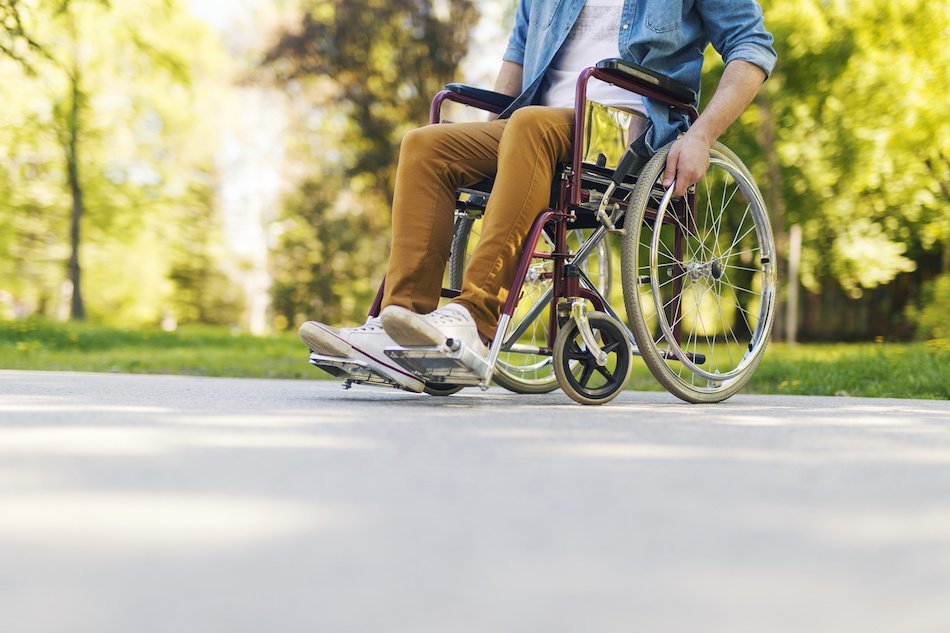 While a flat, hard surface is best for a wheelchair-friendly driveway, asphalt or concrete can be rather expensive, especially if the driveway is relatively long. If replacing an entire driveway is cost-prohibitive, homeowners should consider at least making sure there is a sizable area directly in front of the garage that is made of concrete or asphalt. This will allow for easier entrance in and out of a vehicle and permit more convenient loading an unloading. The area should be at least six feet wider that the width of a vehicle and allow for wheelchair passage both in front of and behind the car.
Any ledge that is taller than 1/4" in height into or out of the garage door area should be minimize with a small wheelchair size ramp. If not already in use, a garage door opener should be installed and rocker light switches placed near both the garage door and home entrance door. Doors into the home or out to the yard from the garage should be a minimum of 36" wide. Ramps may have to be in place to overcome any barriers. Keep in mind the rule of 1 foot of ramp length for every 1" vertical rise. A step of 6" or 7" for example, will take a 6' or 7' ramp. A wheelchair-friendly garage should be roomy enough to allow entrance into and out of the vehicle inside when the weather is inclement.
If a garage is used for other purposes other than parking a vehicle, you'll want to take those uses into consideration. Workbenches should be lowered to 30" high with a maximum depth of 24". Tools and pegboards should be accessible. Make sure there is at least a 27" high space underneath the workbench for the users legs, and knees.
If the garage contains and washer and dryer, consider replacing them with front-loading machines on 10" risers for greater accessibility. Keep detergents and supplies on accessible shelves.
Creating a wheelchair-friendly garage creates an opportunity to reduce clutter and create more open space. It also provides an opportunity for a better lifestyle.
Decks/Porches
Outdoor living areas are quite enjoyable and should be accessible by all members of a household. The first area of focus should typically be making sure a deck or porch is accessible from the interior. This may be as simple as a using a small threshold ramp and ensuring the doorway is a minimum 36" wide. It is recommended that accessible areas have at least 5' of space in all directions.
Multi-level decks may involve the use of ramps to make them fully usable. When building a deck that is wheelchair friendly, consider a deck that is at a height easily accessible from both inside and outside a home. Keep in mind that both wood and composite decking materials can get slippery when wet, so steps should be taken to create a non-slip surface through a variety of textured materials available. Composite materials can be placed closer together than wood planks, making a composite surface somewhat smoother than wood. Planks should generally be placed to run perpendicular to the wheels of the chair so wheels don't get stuck in the "grooves" of decking.
Other Accessibility Resources
ADA
The Americans with Disabilities Act is administered by the United States Department of Justice Civil Rights Division. Here is a list of helpful links.
Financial Assistance
Getting financial assistance for making your home wheelchair friendly starts with understanding some basic terminology, knowing your situation and having access to the programs for which you may qualify.
There are four basic types of assistance available for home modifications.
Grants — These are usually one-time financial "gifts" that are designed to help a disabled person make a home modification without any requirement for repayment.
Low Interest Loans — Some organizations make funds easier to acquire for home modifications but they still need to be paid back. Loans usually have less stringent rules for qualification and much lower interest rates than traditional loans.
Free Labor - Some organizations will provide the labor needed to construct ramps and other barrier reducing products. The material costs are generally not included.
Equipment Loans — There may be equipment available that homeowners may use when needed but will need to be returned following use.
Here are some helpful links:
The U.S. Department of Veterans Affairs offers housing grants for disabled veterans.
Self-sufficiency grants for those needing home modifications may be available from Modest Needs, an organization dedicated to helping those just above the poverty line who may not qualify elsewhere.
The Gary Sinise Foundation's RISE Program, inspired by his portrayal of the iconic Lt. Dan in the movie Forest Gump has been established to help wounded warriors in adapting to disabilities.
The National Council of State Housing Agencies helps locate agencies that may be of assistance in individual states.
Social Security offers an number of benefits for disabled Americans.
Medicaid Programs are available to assist with home modifications
Older Americans and their families may find resources in their own community through the US Administration on Aging.