Top Manhattan Beach Elementary Schools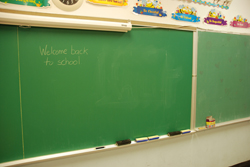 Students in the Manhattan Beach, California area attend Manhattan Beach Unified School District schools. These schools receive a 10 out of 10 rating from the state and excellent marks from parents for their academic standards and commitment to student safety. The ability to send your children to these excellent schools is one of the perks of purchasing a home in Manhattan Beach.
Parents of elementary age children who wish for their children to attend the public schools have five different elementary schools to choose from: Grand View Elementary, Pacific Elementary, Pennekamp Elementary, Meadows Elementary and Robinson Elementary. The schools are California Distinguished Schools, and all five receive a perfect score from GreatSchools.org. Also, all five of the schools scored 10 out of 10 on the state's ranking system. Overall the area's schools rank in the top 10 percent in the state.
While all of the public elementary schools offer an exemplary education, they do have some differences. Because of this, the Robinson Elementary and Pacific Elementary also scored 10 out of 10 in the state's more challenging comparison that looks at their achievement compared to schools with a similar socioeconomic profile, while the others scored slightly lower. Excellent teachers and involved parents help make this a reality.
While the public schools in Manhattan Beach are an excellent choice, some parents will prefer the atmosphere of a private school. For parents who want a Montessori approach to education, Manhattan Academy offers this more hands-on educational option, and it receives high marks from parents.
With these excellent educational opportunities, even for the youngest area students, it's no wonder that Manhattan Beach, California is such a highly desirable place to live. Start your search for your new Manhattan Beach home today, and soon your children will be able to benefit from these highly rated schools.