Southern California Road Trip Guide
Are you ready for an epic trip along the coast of southern and central California? People who know and love California understand that "vast" is just the first word to describe it. You can drive pretty much forever and never cease to find interesting beaches to visit, quirky beach towns with a life that transcends modernity, state parks that protect the life both above and below the water, and the people who make a home out of the California coastal region. With comfortable weather and beautiful beaches at every turn, this is a perfect road trip to take almost any time of the year.
This tour takes you through about 500 miles of the California coast, starting at Point Loma in the south and concluding at Point Lobos, just south of Monterey. From point to point, you will find natural and human history that may shock or surprise you. Along the way, you will dance along white sandy beaches, dunk your head in some of the best diving conditions in the world, and see the wonders of sweeping natural parks and towering redwood trees. All you have to do is pack a bag, put some gas in your car, and start.
North to the City of Angels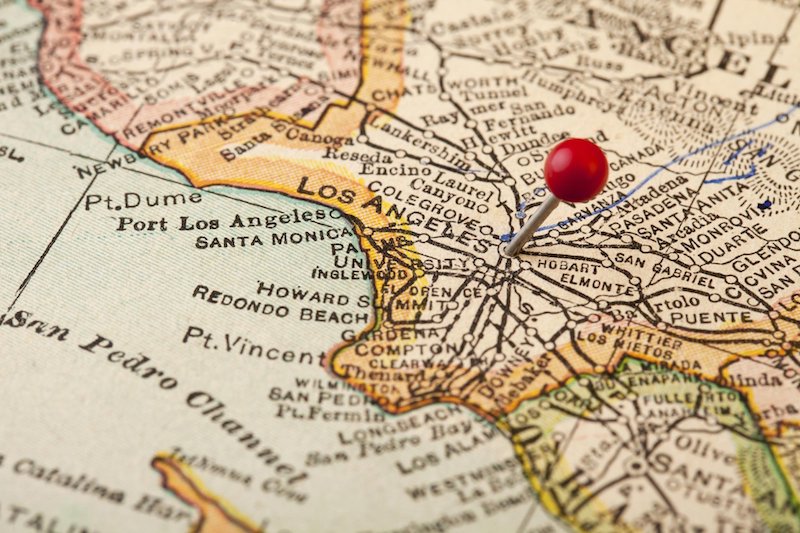 The first leg of this trip stretches along the winding roads between Point Loma and Dana Point as you make your way north towards Los Angeles. This 131.2 mile trip brings you through 6 beautiful destinations with 18 recommended restaurants and lodging choices along the way. Other hidden businesses and treasures remain hidden for the discerning eye of the keen explorer interested in taking advantage of everything the route has to offer.
If water and laid-back living are what you seek, these stops will guarantee fun in the sun, open ocean winds, and a relaxed atmosphere to soothe your soul. Take a load off and listen to the waves or finish the day with some delicious local food—there's no wrong way to relax here in Southern California. Take things at your own pace and you're sure to have a good time.
Point Loma
Heading to Point Loma takes more than just a willingness to hop off the freeway and drive a few hundred yards. As you meander through small, two-way streets packed with palm trees, cottages and housing for the naval base located nearby, you may understand why this is a place so many people want to see. If you drive all the way to the end, up a few winding roads from the beach, you will reach Cabrillo Monument, the site of the first European contact with San Diego in 1542. The visitor center provides all the information you need, with some awe-inspiring views of San Diego from hundreds of feet above the water.
Near the monument is the old Point Loma Lighthouse, a fixture from San Diego's early American history. Although the lighthouse is no longer in use, you can go inside and check out the preserved building where the lighthouse keepers lived. If you are willing to head back down the hill at low tide, you could wander the Point Loma tide pools. There, you can see starfish, sea anemones and more. Be aware that parking is very limited down at the pools, so you should try to plan around holidays or else be willing to walk a couple of miles from the larger monument parking lot above.
Where to Go Nearby
Since Point Loma does not have beaches in the way you might expect for San Diego, you can drive your way back north in the peninsula toward other sources of engagement. Take your first stop at Shelter Island, a small landed outcrop in the San Diego Bay. There are parks and restaurants at Shelter Island, with views of the bay in all directions. Find your way to Rosecrans St. and take it northeast to Old Town San Diego, with plenty of 19th Century homes and museums to visit. For more physical or modern entertainment, you can head a few minutes north to Mission Bay, where you will find SeaWorld and several pleasant, welcoming beaches perfect for spending a sunny day.
Dining:
Lodging
Torrey Pines State Beach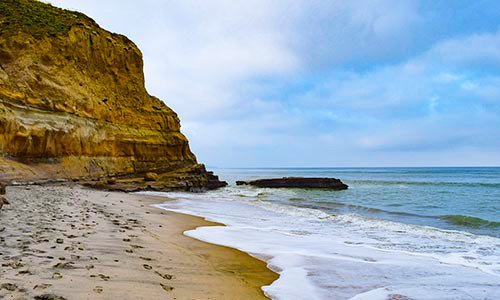 There are occasions when you simply have to see what is up with a beach that is so popular. Torrey Pines State Beach is a good example, with 4.5 miles of delightful white sand bordering Del Mar and the cliffs of sandstone at Torrey Pines Mesa. The trick to getting into a beach like this is to try to avoid the crowds. The late morning and early afternoon are generally the busiest times, so you may want to plan to visit earlier or later in the day. The beach has alerts to let you know if the main parking lot is full, to direct you to park at North Beach instead.
Once here, you will immediately see the massive appeal. Sure, you can swim, surf or play on the beach. You can also snorkel, scuba dive, or go windsurfing. Be sure to take some time at the Torrey Pines State Natural Reserve that borders the beach on the south, as well. There, you can see the pine for which the area got its name, as well as miles of undeveloped beaches. The views alone may be enough to last a lifetime.
Where to Go Nearby:
Finding stuff to do around Torrey Pines takes no time at all. If you are thinking about some inland sport that provides a spectacular visage, you have to go to Torrey Pines Golf Course, just south of the beach on Torrey Pines Rd. After a day hitting that outstanding course, you can head north or south for some serious sit-down or walking entertainment. If you go north on I-5, you will see the Del Mar Fairgrounds, a sprawling set of buildings to the west. The fairground was initially a 19th Century location for an agricultural fair, that added horse racing in the 1930s. It is ideal to watch racing nearly every day in the summer, or participate in many cultural events throughout the year. Head south a few miles to La Jolla Cove, where you can enjoy upscale boutique shopping and excellent dining, all within view of the water.
Dining:
Lodging:
Batiquitos Lagoon State Marine Conservation Area
In a place with a tightly-packed coastal population like San Diego County, you may have few opportunities to see the land like it was tens of thousands of years ago. As you walk along the trails of Batiquitos Lagoon State Marine Conservation Area, you might get a hint of the past. You should tread carefully and stick to the path, for the animals and plants that live here are under strict state protection. Batiquitos Lagoon was a popular place for ancient communities dating as far back as 8,000 years ago. Although decades of 20th century development threatened the wetlands of Batiquitos, it was restored in the 1990s and stands as the marshy delight you can see today.
When you come to Batiquitos Lagoon, you should plan to do a little hiking. The trails are fairly accessible, although a few may have some steep hills at various points. At certain times, you can take advantage of a guided walking tour led by a docent of the Batiquitos Lagoon Foundation. With a permit, you can fish from a designated area. You are encouraged to leave no trace of your visit, and take only pictures with you for memory.
Where to Go Nearby:
Going to Batiquitos Lagoon is a great way to appreciate the natural state of North County San Diego, but there is a lot to do in the city of Carlsbad, as well. For a more traditional beach, head immediately west of the lagoon to South Ponto Beach. South Ponto prides itself on being one of the widest beaches in the county, with enough room for surfing, swimming and even beach volleyball. Head a few miles north, and you can have a fun day at Legoland. This brick-focused theme park has fun for all ages, but most of the rides are geared toward younger children and tweens. For shopping and a chance to get a great deal, check out the Carlsbad Premium Outlets, located just off I-5 a few miles north of the lagoon. You can find designer brands to take home, or outfit yourself for a night on the town.
Dining:
Lodging:
Oceanside Pier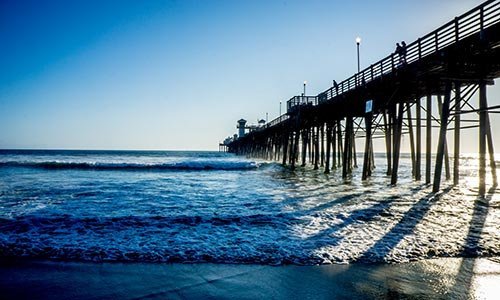 If you want an opportunity to walk, shop, dine and enjoy the surf while literally on top of the water, Oceanside Pier is the place to go. With a pier that extends nearly 2,000 feet off the beach, you have a perfect vantage point to view the many beauties of the sand and sea. The good news is that you will not long for sources of entertainment. At the landed end of the pier, you will find an amphitheater featuring seasonal events and performances. On the very edge, right over the water, you can enjoy lunch or dinner at Ruby's Diner.
As you walk along the pier, you could see just about anything. You might catch a concert, or watch the surfers enjoying the swell. You won't miss an opportunity to see the creatures of the water and air that make Oceanside their home. Look for dolphins, seals and sting rays in the shallow waters. You might also spot a pelican or a great blue heron among the many seagulls looking to catch a delicious dinner before they head home. Walk down onto the beach for plenty of white sand and just the right amount of water for a perfect day out.
Where to Go Nearby:
Oceanside Pier will likely provide you with all of your beachy needs, but there is more that you probably want to see. For one, if you want to head out on the water, you need a place to get in. For that, you definitely should head a few minutes north to Oceanside Harbor. There, you can find plenty to do on foot, including beaches and food options with a harbor view. There are also companies specializing in boat rental for those who long to do some boating or fishing of their own. If you are craving something a bit further inland, head just slightly southeast to Goat Hill Park. Goat Hill Park is a municipal golf course that has recently changed management. You can seek out an 18-hole course, a driving range, or golfing lessons for all ages.
Dining:
Lodging:
San Clemente State Beach
As you pass into Orange County, San Clemente is the first place you will spot. San Clemente is a state beach with a rich history extending back many centuries. The city itself is dubbed the "Spanish Village by the Sea," noting the Spanish Colonial architecture that became the norm in the area in the late 18th Century. When you see the one-mile-long beach, you might get a sense of the past and the present all in one. The beach is best known for a sharp bluff that provides some engaging views of the ocean from a slight height.
Although you can certainly just come for the day, a lot of people enjoy San Clemente for the campground that is almost on the beach. This beach is aimed particularly at water sport enthusiasts, especially those interested in surfing and scuba diving. Check out the visitor center to get details on other activities available within the park. Take advantage of the bike trails or hiking trails, or add a few new pages to your geocaching log. The campground is designed to provide basic comforts, including showers and RV hookups.
Where to Go Nearby:
When you long to get back to civilization for a bit, you should wander over to the San Clemente Pier, a wooden pier that dates its construction to the 1920s and extends about 1,300 feet out into the ocean. There is ample room to walk around the pier and fish, which is good because it can get a bit busy at times. This is a great spot to get something to eat or walk along the pier to learn more about its history and what you can see from any given spot. Although the ocean views during the day are lovely, you might enjoy walking the pier at night when beach bonfires light up the sand. The pier is just south of the city of San Clemente, which provides access to public transport into other parts of Orange County.
Dining:
Lodging:
Dana Point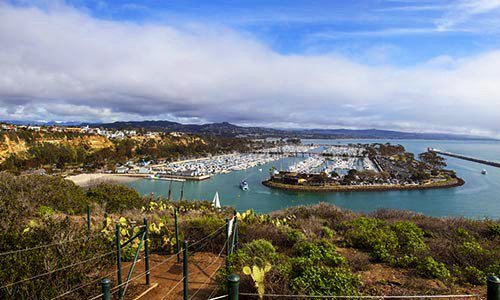 When you arrive in Dana Point, you should know that you have reached a historic trade port on the Southern California coast. Dana Point got its name due to a classic book written by Richard Henry Dana, Jr., a 19th Century politician who spent his youth as a merchant seaman along the coast of Alta California. He remarked that Dana Point was the "only romantic spot on the coast." With a bustling marina constructed in the 1960s, Dana Point is not exactly the way Dana would have seen it, but there is plenty of romance still available.
You can go boating or enjoy other types of watercraft from the harbor, but Dana Point is large enough to feature many fun opportunities. Check out the Dana Point Headlands Conservation Area which has ample sandy beaches and tide pools ripe for exploration. Take a break at Lantern Bay Park, a hillside park with playgrounds and an ocean view. Visit Doheny State Beach immediately southeast of the harbor for the kind of classic beach fun California promises.
Where to Go Nearby:
There is so much to do that is either north or south of Dana Point, but from your vantage point, you should also look to the west. Just a few miles out to sea is Catalina Island, a popular tourist destination part of the "Channel Islands." Get on a ferry from the harbor at Dana Point, and it will take less than an hour to arrive at the city of Avalon, the most populated area on the island. This rocky island is your opportunity to take a glass-bottomed boat to see the colorful fish in the area. You might even glimpse a shipwreck or two. Scuba-divers and snorkelers absolutely have to visit the Avalon Underwater Dive Park to see sharks, rays, and fish up-close. Bring your waterproof camera equipment, because this may be a chance of a lifetime to get a selfie in a kelp forest.
Dining:
Lodging:
From the Bay to the Shoals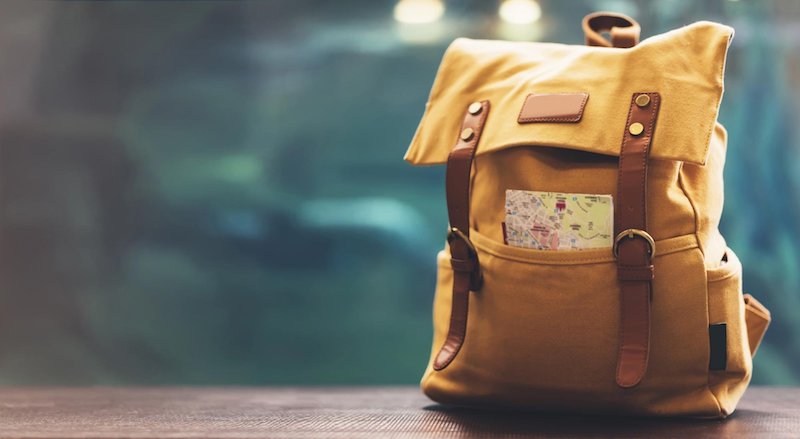 The second leg of this coastal journey takes you from South Bay in Los Angeles to the hidden coast of Mussel Shoals. The drive comes out to around 111.9 miles, but be prepared to do some walking when arriving at these 4 destinations. There's a lot to see, and there are many paths one can take whether they're hiking or searching for some great shopping. Take note of the 10 suggested dining and lodging options listed, but make sure to explore some on your own as well.
Travelers can visit these spots again and again and never have the same experience twice. The opportunities and views and adventures are vast and ever-changing, and it's nearly impossible to see it all in one trip. Plan your adventure along this leg of the trip or let impulse take you, and you're likely regardless to have the time of your life.
South Bay (Redondo Beach Area)
As you pass through Long Beach on Hwy. 1, you might miss those beach views on your drive. Don't get too lost in the suburbs, because you will be headed back to the beach before you know it. The highway reaches close to the coast again just south of the Redondo Beach area, taking you past Hermosa Beach and Manhattan Beach before it heads north from the coast again. There was once a small, natural saltwater lake where indigenous people and traders got their salt, which accounted for the early business of the area.
There are a few miles of shining, sandy beaches from Redondo Beach to the south to Manhattan Beach on the north. Visit the Sea Lab to learn more about sea life, and give the kids a chance to touch sea creatures with their own hands. If you go to the Seaside Lagoon, you can let the family run wild among water play features and slides that go right into the seawater. For a free activity, check out the Hopkins Wilderness Park, with plenty of forested walks and an opportunity to feed the fish.
Where to Go Nearby:
In an area this built up, it might be easier to imagine what you could not do compared to what you could. If you are willing to drive several miles inland, you will find many amusement parks like Disneyland or Knotts Berry Farm quite accessible from your hotel or campground. You can even head a few miles south to Long Beach, to spend a night on the floating hotel Queen Mary. Or, you might decide to follow the unique shape of Redondo Beach inland, and do some shopping at the South Bay Galleria. For something out of the ordinary, go north to Dockweiler Beach. You will avoid the traffic around Los Angeles International Airport, and you could even learn how to hang-glide. The options are virtually endless.
Dining:
Lodging:
Santa Monica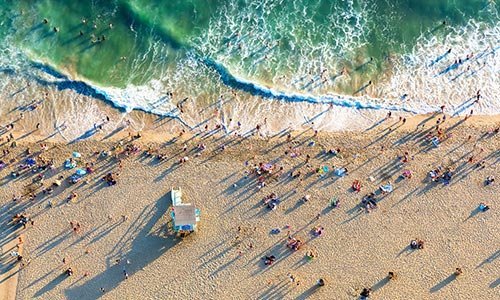 When you are accustomed to the massive sprawl of Los Angeles, it may be hard to imagine a place so close to that city that could actually feel like an individual community. This is Santa Monica in a nutshell. With 8.3 square miles that are bordered on three sides by Los Angeles, you could walk around much of Santa Monica without having to get back into your car. Start with a short trek to Santa Monica beach, which is 3.5 miles of maintained sand with lifeguard stations to help ensure your safety.
Next, you can rent some bicycles and head out on the Marvin Braude Bike Trail, also called "The Strand," which is 22 miles of paved bike roads right down the coast. You could get some great exercise and wonderful views without ever leaving the beach. To enjoy some fresh produce, you will probably arrive at the right time for one of the four weekly farmers markets, often considered the best in the county. If cool weather brings you indoors, be sure to take advantage of one of the 75 museums and art galleries. After dark, the city shifts focus from sun and fun to nighttime pleasure, with dinner, dancing and the occasional dive bar.
Where to Go Nearby:
No visit to the city would be complete without a stop at the Santa Monica Pier. It is sizeable, easily accessible for virtually anyone, and it has a real history. The pier was built in 1909 as the first concrete pier made on the U.S. west coast. The wide pier made a perfect spot for entertainment, including an amusement park still in use today. Although it's had its ups and downs, the pier remains a major source of commerce and engagement for locals and visitors alike. If a historic carousel is not your thing, you should check out the pier aquarium, open in the afternoons every day except Monday. You might also enjoy a historical walking tour, which shows you how the pier has changed over time.
Dining:
Lodging:
Parker Mesa Overlook
It's time to put on your hiking boots and get up a bit higher than the beach, because the mountains (and their Instagram-worthy views) are waiting. There is no way to get to Parker Mesa Overlook except by foot, so you should be prepared for about 5.5 miles of hiking and an elevation gain of over 1,300 feet. The Paseo Miramar Trail, which culminates at the overlook, is located inside Santa Ynez Canyon Park. You can drive as far as the trailhead, by turning off Sunset Blvd. onto Paseo Miramar. Meandering through the community, you reach the trailhead, park and get ready for an adventure.
The entire hike is located closely to the coast, although over half of the hike to the point has you heading north away from the beach. Once you turn around, however, you will have a real treat. Imagine yourself in the mountains, surrounded by trees, brush and dry grasses. You turn and catch a glimpse of a gleaming, blue bay that matches tones of the sky and seems to stretch on to infinity. The trail is well marked, but you may have a few patches of rough road here and there. Be prepared with water and snacks, because you may need at least a few hours for the trip.
Where to Go Nearby:
At this point, the Pacific Coast Highway (Hwy. 1) takes you so close to the beach you might as well be driving out over the water. Of course you might take a chance for some sun and fun at the beach. Ratner Beach is just barely north, located in Topanga. The best part is that there are hardly any crowds. It is right off the highway, so you should expect at least a little road noise, but don't hesitate to pull off and take a break, especially at sunset. Feel free to bring out the dogs or even fish for a bit, if it suits you.
Dining:
Lodging:
Mussel Shoals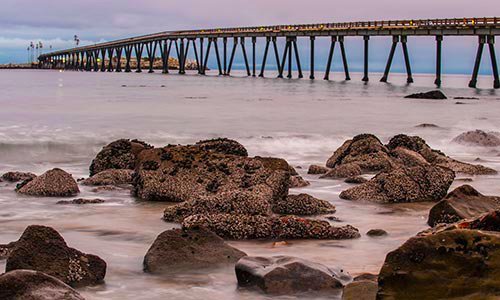 The first thing you should know about Mussel Shoals is that it is really, incredibly small. Blink, and you might miss it. However, if you take the time to stop, you can find some interesting perspectives in this tiny unincorporated community off Hwy. 101 in the northwest corner of Ventura County. Essentially, Mussel Shoals has an engaging beach and a pier that takes workers out to the artificial island of Rincon. Stop at the beach and give yourself a break from the road. If you stand on the sand at the right angle, you can see the water coming in almost sideways to the beach. It is a unique view that you might not get from almost any other beach on the Southern California coast.
While you are at the beach, take the time to appreciate a little space away from the crowds. You may find pelicans and other interesting sea birds digging clams and crabs out of the sand. The tiny community has only a couple of streets, with houses lining the beach. If you decide to stay for the night, your hotel will only be a few minutes' walk from the water.
Where to Go Nearby:
Although you get plenty of vantage points from which to enjoy views of Rincon Island, the island and the Richfield Pier that connects it to the mainland at Mussel Shoals is entirely dedicated to oil drilling and gas production. Once you have had your fill of the beach, consider heading a bit north to the similarly small and unincorporated community of La Conchita. From there, you can take the meandering Ocean View Rd. through the hills and canyons to Rincon Mountain Winery. It is only a couple of miles inland as the crow flies, but you will see some spectacular sights of a very different variety.
Dining:
Lodging:
The End of the Journey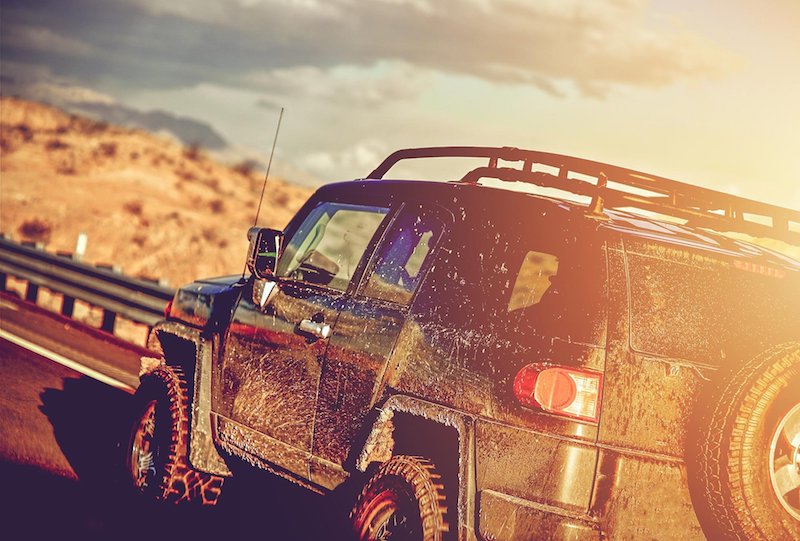 The final and longest leg of the road trip takes you from Santa Barbara to Point Lobos State Natural Reserve. This journey spans a sprawling 224.5 miles through some of the most beautiful coastal views and natural scenery of California, sure to awe anyone and bring your journey to its natural conclusion. After leaving Santa Barbara, you'll find yourself on a peaceful, solitary journey up the coast.
The 5 areas spanning this leg of the journey are sure to impress, and while businesses can be few and far between throughout this leg of the trip, there are at least 15 places to eat and explore. Remember to pack appropriate clothing for outdoor adventure as well as some snacks and water, and check with each park to see if there are any rules or happenings that you should be aware of.
Santa Barbara
When you get a glimpse of the dark blue waters of the Santa Barbara coastline, you will immediately understand why the city is often referred to as the "American Riviera." This stretch of south-facing coast is the longest portion with such a designation in the Western United States, creating a channel that offers some excellent weather and views in any direction. Face the ocean, and you will get a feel of that Mediterranean climate. It is the moderate temperatures here that may distinguish Santa Barbara from Southern California and the cooler Central California coast to the north. If you want, you can grab a "water taxi," a boat ride offering a short tour of the area from the Santa Barbara Harbor.
With average highs in the 60s and 70s and average lows in the 40s and 50s, depending on season, Santa Barbara offers a chill lifestyle and sunny skies, without as much of the heat. As you look to the north, you see the Santa Ynez mountain range rising far above the city. Load up your backpack and do some hiking or rock-climbing. If you have the time, head over to the Santa Barbara Zoo, a small zoo that is almost right on the water's edge.
Where to Go Nearby:
Don't think that you have to stick to the land, though. Adventure waits just in the distance. Go over to Stearns Wharf, the site of the Santa Barbara Museum of Natural History Ocean Center. This is an interactive facility that teaches visitors of all ages about the marine life that surrounds the city. If you long for something a little more ancient, you might hop on an Island Packer boat to Channel Islands National Park. The Channel Islands are largely unspoiled, so you have a sense of what Cabrillo might have seen as he touched ground in the 16th Century. You can camp here, but be prepared to carry everything on your back and do a lot of walking.
Dining:
Lodging:
Montaña de Oro State Park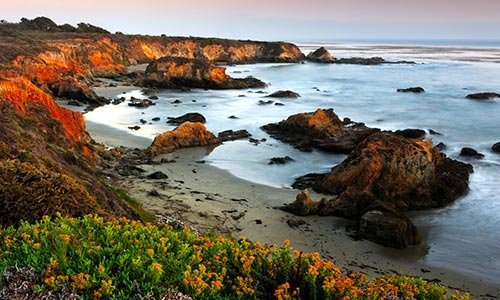 Although you might not get independently wealthy by traveling to Montaña de Oro, you will feel a bit richer for having visited the "Mountain of Gold." Called such for the yellow wildflowers that grow all over the place in spring, Montaña de Oro serves as a little bit of wild heaven for the road-weary traveler. The 8,000-acre park features more walking and hiking opportunities than you could possibly imagine, including beaches, towering pale cliffs, green hills filled with wildflowers, and the perfectly respectable Valencia Peak. Slip on your flip-flops or put on your hiking boots for some serious convening with nature.
Whether you want to head down to Spooner's Cove for a walk along the beach, or you plan to head into the hills on a mountain-biking trail, you can easily find it here. The beaches are a combination of sandy and rocky, perfect for the area. The campgrounds in the park are equipped to handle equestrian camping, and there are trails that you can bring your horses on, as well. Just make sure to check the weather forecast before you set out for the day. It might be colder than you expect at times.
Where to Go Nearby:
If you are not quite finished with enticing rocky beaches, you might head a little north to Hazard Canyon Reef. This is a one-mile hike along Dune Trail, with a wooden boardwalk and a staircase that helps you get into the canyon. There, you will appreciate an amazing beach with tide pools for your exploring. Need a break from the wild? Head into nearby Los Osos, the city that surrounds Morro Bay. Morro Bay features its own state park, marine reserve, and a golf course for your entertainment. You can even visit the famed Morro Rock, an ancient volcano rising 576' above the water.
Dining:
Lodging:
San Simeon
As you drive up the coast along the Cabrillo Highway, you see that there are some parts of the Central California Coast that are barely populated. San Simeon, established over 200 years ago, is a tiny town with so much surrounding it. You may have to go a bit inland to find some civilization, for the life on or near the water is as natural as it gets. If you have the ability, take a kayak to explore some sea caves. Go on a hike to San Simeon Point to spend some time along the beach. The 2.5 mile hike has a clearly marked trail and is not particularly difficult, making it accessible for people with different levels of hiking experience.
A couple of miles north of San Simeon leads you to Elephant Seal Vista Point, which is a popular place for elephant seals to rest during the late fall and winter months. A little further northwest will put the Piedras Blancas Light Station within view. This lighthouse was an important part of California maritime navigation in the 19th and early 20th centuries, and is still in use today. You can take a two-hour tour of the lighthouse, surrounding buildings, and view the water and sea life from above.
Where to Go Nearby:
You might not expect to see a legitimate castle towering in the hills above San Simeon, but that is what Hearst Castle is designed to be. If you are willing to drive along a winding road a few miles from San Simeon, you will have a chance to see how California's wealthy elite lived a century ago. The property was in the Hearst family for many decades. The towering visage you can see today was started at the end of World War I, as a home for newspaper magnate William Randolph Hearst. These days, you can tour the Casa Grande, along with the grand rooms, upstairs suites and the kitchen. The construction took over 30 years, and you can take a walking tour to learn of all the careful work designed to create The Enchanted Hill, as the property was often called.
Dining:
Lodging:
Big Sur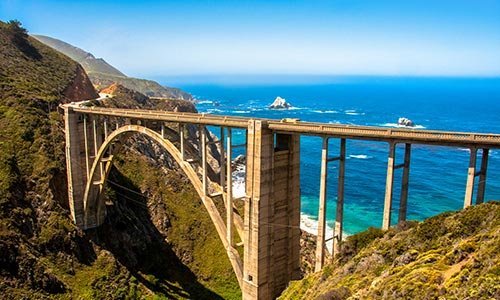 Strap on your driving goggles and pay attention, because this part of the Central California Coast is very little like what you have already seen. Here, there is no gentle beach extending into a city that gradually slopes upward into a mountain range. Nope, Big Sur is an unincorporated region of California where the mountains are so eager to show you how impressive they are that they all but burst from the surf. The Santa Lucia mountain range is known for the way it kicks up thousands of feet practically at the water's edge. Cone Peak, only a few miles from the beach, is the largest mountain so close to the ocean in the Continental U.S.
Since the mid-19th Century, the state of California has sought to keep Big Sur as the "last frontier." Although the area does not have an obvious boundary, most people agree that it represents a 76-mile stretch of coast between San Simeon to the south and Carmel in the north. As you drive, be sure to pay attention while going over the Bixby Creek Bridge. The bridge rises 260 feet above the ground below and is one of the most picturesque places in this part of California.
Where to Go Nearby:
The limits on development in Big Sur means that a lot of what you are able to do will be specifically related to the natural beauty of the area. There are a few beaches that are ideal for walking, but you should not plan to go swimming. The water is usually too cold, and the current is unpredictable. From the beach at Garrapata State Park, you might be able to catch a glimpse of whales migrating. McWay Falls, inside Julia Pfeiffer Burns State Park, is an 80-foot waterfall dropping from the bluffs above directly into the water. In the Big Sur River Valley, you can drive through a forest filled with redwood trees. The valley is also where you are more likely to find the most civilization, with a small number of inns and restaurants.
Dining:
Lodging:
Point Lobos State Natural Reserve
There are not very many parts of California that were purchased with the intent of not being developed. Point Lobos is the exception. In 1933, Alexander Allan bought a large piece of land in the area so that it might not be divided into 1,000 smaller lots. Fortunately for you, the land has been preserved long enough that it has earned governmental protection, in the form of the state marine reserve and the state marine conservation area. You cannot move an inch in this space without encountering something significant, ranging from endangered wildlife to protected archaeological sites.
Point Lobos is a great place to go diving, if you are prepared for the water and the 70-foot-high kelp forests. Many miles of hiking trails take you all over the peninsula, from Moss Cove to the north to China Cove in the south. Take a stop at Whaler's Cove to see the origin of the local whaling industry in the mid-19th Century. There is a whaler's cabin still standing on the spot, which is now a museum sharing the history of Point Lobos.
Where to Go Nearby:
If you head just a little north, you will run into the town of Carmel-by-the-Sea, known for its quaint cottages and the library of the Carmel Mission. You have found civilization again, and there is much to see. This conclusion of the road trip takes you within easy driving distance of Monterey and represents the beginning of the sprawling suburbs of the San Francisco Bay Area. Monterey is a smaller city with a feel like a metropolitan city of the world. Be sure to check out the outstanding Monterey Bay Aquarium or enjoy the cool, salty air coming from one of the many beaches.
Dining:
Lodging:
So Much to See and Do
Let's be honest. You would need at least a month to give this road trip any justice at all. At the end, you will have had the benefit of weeks of warm sun and lungs full of fresh, clean air. Your camera or smartphone will be bursting with pictures that you can keep to remind you how each part of the central and southern California coasts is a little bit different. From the Point Loma Lighthouse to Whaler's Cove, you learn that California has a rich history that links back hundreds of years prior to the American state, and in some cases even thousands of years.
Every time you take a road trip that leads you along the Cabrillo Highway, you are mixing past and present as if it were a cocktail. Add sand from the dozens of beaches for a little grit, a salt for the air, and a few bites from a great local restaurant to nosh on. The result is a meal of a trip that will never come off the same way twice. This adventure was made for you, and every time you go, you make it a little more your own.
Resources
Car Maintenance Checklist for Road Trips
Visit California: Road Trip Guide
Top 10 Southern California Beaches
Best Beachfront Restaurants in Los Angeles
Insanely Easy Ways to Make Your Road Trip Awesome