Moving to Manhattan Beach w/ Children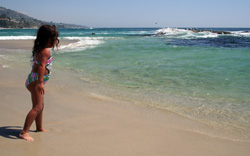 For many kids, living near, or even on, the beach is an excellent benefit to living in Manhattan Beach. Yet, you will have times when the appeal of the sand and surf looses its draw. There is no reason for you to worry, though. Manhattan Beach offers plenty of things for kids to enjoy.
If the weather is good but you just don't want to spend time at the beach, Manhattan Beach has several parks and playgrounds to explore. Polliwog Park and Sand Dune Park are two popular options. Polliwog Park is one of the largest parks in the region, offering all of the traditional park amenities. In Sand Dune Park, the dune itself, which kids can climb and explore, is the primary draw. For rainy days, take the kids to AdventurePlex or the Under the Sea indoor play place, both of which offer climbing, jumping and playing structures for kids to explore.
Yet moving to Manhattan Beach with kids requires more than just playgrounds and parks. As a parent, you want to know that all of your children's needs, not just their need for play, will be taken care of. Manhattan Beach has excellent public schools for you to send your children to. It also has a thriving community sports program and excellent aquatics education options.
As you prepare your children for your big move, talking about what they will be able to experience in their new community can help make the move less stressful for them. Take them to Manhattan Beach to explore the community with you, and they will fall in love with it just like you have. Soon everyone in the family will be excited about moving to this laid back beachside community.