Will Wearable Technology Be The Next Big Thing In Real Estate?
Posted by Greg Geilman on Saturday, February 15, 2014 at 4:05 PM
By Greg Geilman / February 15, 2014
Comment
Wearable Technology & Real Estate
Our obsession to leverage new smart technology continues as we explore wearables – specifically smartwatches. When used seamlessly, technology has strong benefits to myself and more importantly to our clients, so it's important to stay on top of the latest trends.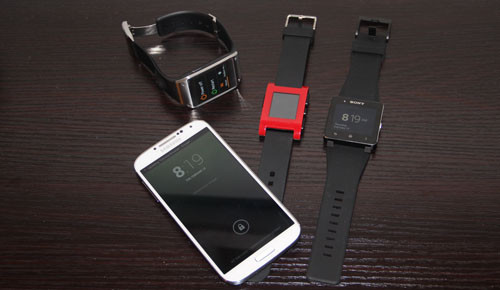 You may have read our blog a few months back when we were fortunate enough to be one of the first to check out Google Glass. While we didn't give Glass a rave review, we have to admit the technology is impressive. The lag in the Hangout video feature combined with the actual device sitting on my face made it undesirable for everyday use (however it is a super-fun toy on the volleyball court).
Smartwatches on the other hand have earned their place as an essential everyday tool in our tech arsenal. Ultimately my smartwatch is my smartphone companion. It alerts me of activity subtly so I can discreetly determine if I need to access the "bigger" screen (my smartphone). With a small vibration to the wrist and a quick glance down I can see if my next listing appointment is coming up, if a client has an urgent request or if my wife needs me to pick up dinner – all without interrupting the conversation I'm having with someone on my team. Seamless. Efficient. Smart!
Customization is key. The Sony SmartWatch 2 is the best solution for me. It works with a variety of different smartphones – although only on Android smartphones running 4.0 and above, so I had to retire my iPhone (for now.) I can select which applications are most critical and how I want to interact with them. Some watches have more app options than others.
I test drove a few different models and each smartwatch has different pros and cons. None of them are going to win a fashion award, but most are adequately functional. I listed my quick reviews below.
Sony Smartwatch 2

($170)– The current winner in my book with a great selection of apps and the ability to work on a variety of Android smartphones. When the screen is sleeping, I can still see the clock face which is practical (unlike the Galaxy Gear). This is also the best looking smartwatch in my opinion. Almost the perfect device. The downfall – no audio or voice recognition so it offers limited options for incoming texts and calls.

Pebble

($150) - I would recommend the Pebble (the Kickstarter

phenomenon

with more than $10 million pledged

) to my friends who simply can't give up their iPhone, however I found this device to be limiting and elementary. It's not touchscreen, so you have to rely on the side buttons which I found uncomfortable.

Samsung Galaxy Gear

($299) – The best at handling voice and audio and the voice dictation is very accurate. I was able to easily respond to text messages and answer phone calls without having to pick up my smartphone. Unfortunately they forgot it's an actual watch, so when the device goes to sleep all you have is a blank screen – no clock, which is a bit annoying. I also had trouble with the watch interferring with the bluetooth on my phone (once the phone was connected to my car). The camera is a fun feature and takes great pics however, at the time of this writing, this device only works with 2 Samsung phones: the Galaxy Note 3 and the Galaxy S4.

Coo Koo Watch ($129)- Not fully functional with the iPhone. Doesn't do much. A nice looking design, but not worth the bluetooth drain on the battery.
As always, please reach out at any time to chat about my tech explorations and of course all things real estate.
Greg Geilman
can be reached at
(310) 853-3073
.