Things to do in South Bay for Girls Night Out
Posted by Greg Geilman on Wednesday, December 25, 2013 at 10:00 AM
By Greg Geilman / December 25, 2013
Comment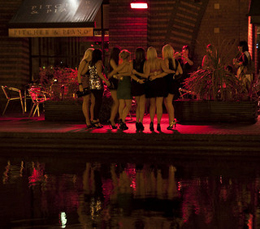 Whether you want to let loose or just relax, there's a great place for girl's night out in the South Bay area. Going out with your girls is important and here are a few great spots for you to enjoy together.
Mediterraneo Kitchen & Bar - 73 Pier Avenue, Hermosa Beach
This bar may be hard to pronounce, but it's a great choice to hang out with your friends. They serve both hot and cold Tapas, along with many regular entrees. If you want to enjoy some time out with the girls, this may be a good starting point. They even offer 2-for-1 Tapas all day on Tuesdays, along with $3 wine by the glass.
Hennessey's - 8 Pier Avenue, Hermosa Beach
Hennessey's is a popular place for all types of fun. This Tavern serves good food and provides a great atmosphere. It falls into the cozy Irish pub category and provides half priced bottles of wine starting at 5pm on Wednesdays.
Bottle Inn Ristorante - 26 - 22nd Street, Hermosa Beach
Not a traditional place for ladies night every day of the week, but a great choice on Thursdays. They hold casual wine tastings of six to a dozen wines with cheeses, grapes, breads and crackers. It's only $10 per person from 6pm to 7pm and if you stay for dinner you receive a $0 discount on the check.
Lala's Argentine Grill - 7229 Melrose Avenue, Los Angeles
If you're willing to head into the city, Lala's is a great place. It's an excellent place to enjoy dinner and drinks with the ladies. They provide wonderful patio seating, as well.
These are some of the many choices throughout the area for a night out with the girls. If you want to enjoy the best of South Bay, just find a place on the water and you're sure to have plenty of fun together.