The Top Grocery Stores in the South Bay Area
Posted by Greg Geilman on Friday, November 8, 2013 at 10:00 AM
By Greg Geilman / November 8, 2013
Comment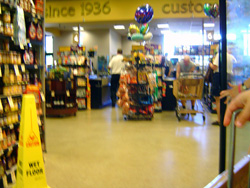 Once you've settled into your new life in South Bay, you will need to find the right grocery stores for your needs. From Manhattan Beach to Redondo Beach, you will find plenty of great choices for all your needs. Here are some of the top grocery stores in the area.
Grow The Produce Shop
Found in Manhattan Beach and open seven days a week, this grocery store is well known for the excellent selection of fresh and organic foods. They carry everything from produce to meats and it's all natural.
Fresh & Easy Neighborhood Market
Another store found in Manhattan Beach, Fresh & Easy provides fresh produce, great service and excellent prices. This is one of the favorites chosen by many locals.
Vons
A Hermosa Beach store with plenty to offer, Vons is a favorite of many. You can grab your Starbucks while you shop and a Redbox movie on the way out. They carry a wide variety of items including some excellent home cooked soups.
Bristol Farms
A high-end grocery store with all types of products from seafood to liquor, this is a great place to pick up the things you need. Bristol Farms is most well known as an alternative to Albertsons or Whole Foods.
Western Family Market
Found in Redondo Beach, Western Family Market offers plenty of choices. This is one of the older stores in the area and offers plenty of memories if you've lived in the area for a very long time or you're returning to the area.
Other area grocery stores include:
Albertsons
Whole Foods
Trader Joe's
El Porto Market & Deli
Speedi Mart
Bocatto's Groceries
All of these stores are highly rated by locals and provide plenty of options for those new to the South Bay area.