The Hidden Costs of Owning a South Bay Home
Posted by Greg Geilman on Wednesday, March 23, 2016 at 9:14 AM
By Greg Geilman / March 23, 2016
Comment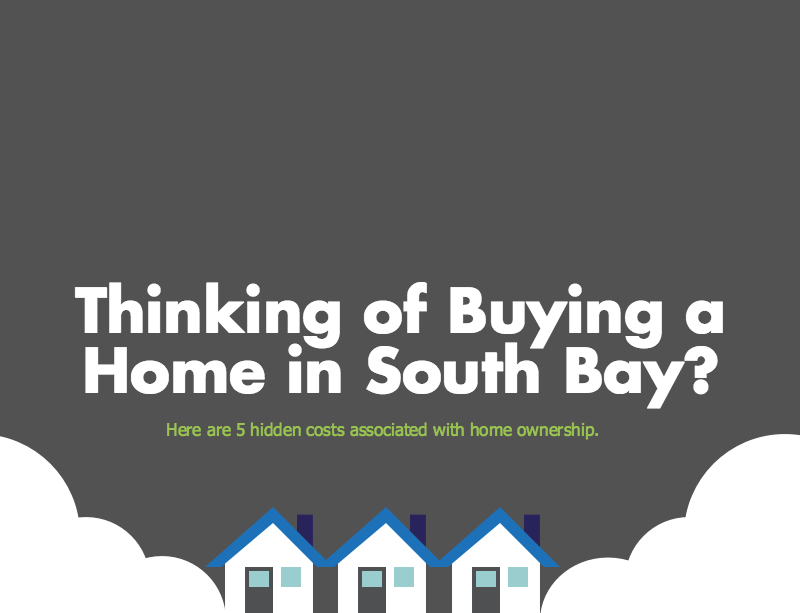 With so many millennials now entering the marketplace for the first time, it's important to be fully educated when finally making that transition from renting to home ownership. Unlike renting, where you sign a lease, write a check every month for your rent, and that's the end of it, many additional hidden costs come with owning a home that go far beyond just a simple mortgage payment. So before you sign on that dotted line and make one of the most important financial decisions of your life, make sure you're factoring these additional expenses into your budget as well:

Homeowners Insurance
If you've already been paying renter's insurance, which is usually a good idea, the transition to homeowners insurance shouldn't be too hard to swallow. Although it'll be more expensive and vary depending on where you buy you South Bay home, make sure to speak with your insurance representative before making any final decision. As of 2015, the national average was around $1,000 per year, but if you're considering a waterfront home here in sunny South Bay, expect that premium to shoot up.

Property Tax
One of the beauties of renting is not having to deal with a property tax bill every year. While this cost is likely factored into your rent, it's still nice not getting a big fat property tax bill in the mail every quarter. In general, property tax is a determined percentage of what your home is worth and also varies depending on location. In California, the median property tax is right around $2,839 per year for a home worth the median value of $384,200.
HOA Fees
If you're looking for a condo in South Bay, be prepared to pay monthly home owners association fees to cover the costs of maintenance, lawn care, and any amenities your complex or building may have. Depending on the neighborhood or gated community, you might also be required to pay a monthly assessment as well even if you're looking to buy a single-family home.

Closing Costs
There's a lot of moving parts to buying a home and even more people than you might initially think involved in the process. From appraisal and attorney fees to title insurance, property transfer tax, and inspection fees, expect to pay around 2.5% of the home cost when going to the closing table.

Keeping Up With Buyer Demands
Sure, buying your first home in South Bay should be fun and exciting. But the reality of any home purchase is that at some point, you're probably going to have to sell it. Keeping up with interior updates, renovations, and all the maintenance involved with the roof, furnace, or any other major component to a home will only benefit you in the long run while also keeping you from having to make major improvements just to sell your home for a reasonable price.