The Best Restaurants in South Bay
Posted by Greg Geilman on Monday, April 22, 2013 at 9:24 AM
By Greg Geilman / April 22, 2013
Comment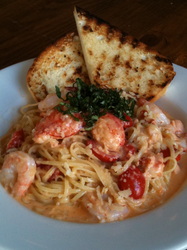 With so many great restaurants throughout the Manhattan Beach and South Bay areas, it's difficult to narrow down the best choices. Some of the top choices among locals are not as well known to visitors, but the locals usually know best. Here are the best choices throughout the area.

1. Tin Roof Bistro
Located in the Manhattan Village Mall, this is a casual bistro offering a generous wine listing from Napa Valley. It's known as a wine country local's hangout and combines great local wine with an amazing atmosphere and Chef inspired cuisine.

2. Four Daughters Kitchen
Starting as a "hole in the wall", this restaurant developed into one of the best choices in North Manhattan Beach. It's a beach eatery with healthy food, a fully stocked bar and organic coffee.

3. The Green Temple
The idea behind the Green Temple is to create a sustainable menu of vegetarian dishes people will love. Featuring a harmonious atmosphere, this unique restaurant provides many great dishes by using many organic ingredients. The few non-organic items they use are locally grown and they spend quite a bit of time shopping at farmers' markets for daily fresh ingredients.

4. The Spot
A natural food restaurant and one of the oldest found in the area, The Spot is actually located in Hermosa Beach. They feature many non-diary items and use the most organic products they can find.

5. Hot's Kitchen (edit: permanently closed)
Known for the huge draft beer selection, Hot's Kitchen provides 36 different taps, along with great good. The menu includes fifty different types of tacos and they strive to provider a casual, yet cool atmosphere everybody can enjoy.

There are many other great restaurants throughout the South Bay area. These are just a few of the local favorites and they all provide a great meal at an affordable price.