Preparing for the Holidays with Excellent Slow Cooker Hot Drinks
Posted by Greg Geilman on Friday, December 6, 2013 at 10:00 AM
By Greg Geilman / December 6, 2013
Comment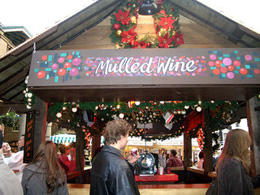 The holidays are all about spending time with family. Whether you have a huge family and you plan to host the party or you will be traveling to another family member's house, it's important to have a few good hot drinks ready for the crowd.
Many festive hot drinks can be created in your slow cooker and they take about two hours to prepare. The best part, you can leave these as non-alcoholic, kid-friendly drinks or you can add alcohol and turn them into adult-only drinks. Here are a few great recipes to try during the holidays.
Hot Toddy
A very popular drink when you have a sore throat, but also a great holiday drink the Hot Toddy is made with hot water or tea. Add honey, cinnamon, nutmeg and allspice with a cheese cloth (this makes it easy to remove the spices when the time comes). Served with rum, brandy or whiskey.
Peppermint Hot Cocoa
The perfect choice for those looking for a great holiday drink, this one is simple to make. Just create your favorite hot cocoa recipe and add a stick of peppermint. For adults, you can use peppermint schnapps.
Mulled Wine
In your slow cooker, mix four cuts of red wine (not sweet wine) and two cups of brandy. Add a half cup of sugar, orange zest from one orange, one cinnamon stick, cloves, almonds and raisins. Strain and serve.
Hot Apple Cider
Choose your favorite apple cider, heat it in the slow cooker, add cinnamon and nutmeg and serve. If you would like to turn this into an adult-only, just add spiced rum.
All of these recipes are great for the holidays and will be a huge hit at your holiday party. If you're traveling with your drink, just make sure the slow cooker is sealed and well stored in your vehicle. It will take about 20-30 minutes to reheat once you arrive.