Options When Selling And Buying Homes In The South Bay
Posted by Greg Geilman on Wednesday, January 30, 2013 at 12:25 PM
By Greg Geilman / January 30, 2013
Comment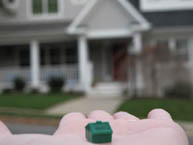 "How are we going to pull this off?" It's a question we get on a regular basis. John and Nancy found their dream home. The only thing standing in their way is they need to sell their current home in order to buy it.
Sometimes our clients don't even begin looking for another home because they're paralyzed by the confusion of which to do first: buy or sell. "Where will I live if we sell first?" "I don't wanna move twice." It's a dilemma, right?
Homebuying Options
There are several ways to approach buying a home when you currently own one:
Buy, Move, Sell- buy the new home and move into it. This requires enough cash or income to carry two mortgages until your current home sells. This is the best option if you have the income to cover both mortgages and enough cash to meet the down payment and closing cost requirements for the new home. Once escrow is opened on the new house you can list the old one and set the closing date for a time after the new home closes. This allows you to remain in your current home until you're ready to move into the new one.
Sell, Rent, Buy- put the house on the market and plan on moving into a rental after it sells before you purchase the new home. This is probably the least stressful option, especially if you can locate a rental that doesn't require a lengthy lease.
Seller Contingency- put your home on the market and accept offers contingent on finding a suitable replacement home before closing. In this scenario you're basically saying, "I'll sell my house to you Mr. Buyer, but only once I find and am under contract with my new house." This is less common, but is a nice way to bridge the gap and not have to move twice.
Write A Contingent Offer- find a home you want to purchase and make the offer to purchase contingent on the sale of your current home. This is typically a less attractive option as it weakens your position as a buyer, especially in a competitive market when you want your offer to win out over other strong offers.
Try To Time It Just Right- try to time the purchase and sale to happen concurrently. Much can go wrong in this scenario to hold up the closing of either transaction. Most buyers won't risk the timing not working out.
Bridge Loan- If you lack the income and cash, another option is to purchase the new home and, when all the contingencies have been removed, list your current home for sale. Once you have a binding contract from a buyer on the current home you can apply for a bridge loan which will provide the funds required to close on the new house.
If you have any questions or would like to discuss your particular scenario, give us a call. We're happy to discuss which strategy best fits your needs.
Or browse South Bay neighborhoods here.