4 Great Materials For Your New Countertops
Posted by Greg Geilman on Monday, July 15, 2019 at 9:44 AM
By Greg Geilman / July 15, 2019
Comment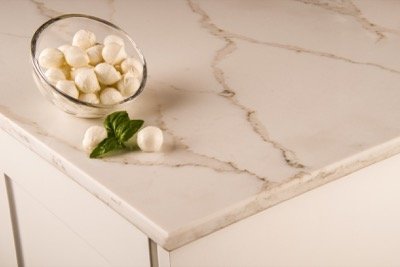 When improving a home, replacing the countertops in kitchens in bathrooms is one of the most popular projects that homeowners invest in. When people think of replacing countertops, they usually automatically think of marble and granite, and while these options can both be great materials for counters, they aren't the only options out there. Here are some of the other materials for counters that homeowners don't often think about when choosing their new countertop.
1. Laminate Countertops
Natural stone like marble and granite can be expensive, so many homeowners who are trying to save money or stick to a budget will opt for a material like laminate that's more cost-effective. While laminate doesn't feel like more expensive materials, it can be dyed and patterned to look like just about anything, so homeowners can still get he look of expensive materials without having to pay the price of them. However, one of the downfalls of laminate countertops is that laminate just isn't as sturdy as stone alternatives, so it can be prone to chipping scratching, and that damage is extremely difficult to repair.
2. Wood Countertops
Wood countertops, also known as butcher blocks, are made from hardwood like oak or maple. It can give a kitchen a rustic look, and it comes in as many colors as there are different hardwoods and stains, so it can fit in well with nearly any color palette. While wood countertops can be a good choice for a home, they also have some important cons that homeowners need to take into account. For instance, one of the most important problems is that if the counter isn't taken care of properly, it can lead to a lot of problems including bacteria, cracking, scratching, and water damage, so wood is a higher maintenance option for counters. However, if the homeowner does follow all the proper maintenance instructions to protect their countertops, they can last for an incredibly long time.
3. Concrete Countertops
Most people wouldn't think of concrete as a good material to make countertops from, but it's actually starting to become popular in recent years. Concrete can also be tinted and colored, so visitors to the home may not even realize that the countertop is made from normal concrete and not some sort of natural stone. When used for countertops, concrete is smoothed, polished, and sealed so it leaves a flat surface that grime and bacteria can't hide in. However, homeowners will have to have the countertop sealed regularly to protect it.
4. Soapstone Countertops
Soapstone is a natural stone like marble or granite, but it doesn't have as much variety in color. It's usually medium to dark gray, which can fit modern kitchens nicely, but it can also leave some homeowners wanting if they prefer lighter colors. Soapstone also gains a natural patina over time that changes its color, and this can help pull a kitchen's look together, but it can be an unfortunate surprise for homeowners who aren't expecting it when they buy their new soapstone countertop. Soapstone is also a softer stone than granite or marble, so it can be prone to chips and scratches if the homeowner isn't careful. However, minor damage can fairly easily be sanded out if they want it to keep looking fresh and new.
These are just some of the different countertop material options that are available to Hermosa Beach home owners. For more information about these and other materials, be sure to go to a local hardware store and speak with an expert who can help choose the best option for every situation.