Manhattan Village Shopping Center Enhancement Project
Posted by Greg Geilman on Tuesday, February 19, 2013 at 10:39 PM
By Greg Geilman / February 19, 2013
Comment
Manhattan Village Shopping Center located on Sepulveda Blvd, is a great place to shop to your hearts content and enjoy delicious restaurants. This premiere shopping center was last renovated in 2000, creating a new look of the interior. There are now plans to bring this shopping center up to date by creating a more efficient flow of the exterior.
With an expansion plan that has been in the works for many years, construction could start as early as January 2014. This Enhancement project will be in 3 stages and is planning to add over 120,000 sq ft of restaurants and retail spaces to be developed, with the addition of more parking spaces and multiple parking structures.
The goal of this project is to bring the Village shops areas together and connect a pedestrian promenade surrounding California Pizza Kitchen. Some of our favorite stores will be torn down, including Coffee Bean and See's Candy, but there are hopes for these stores to be relocated. This will make Manhattan Village Shopping Center more pedestrian friendly which will create better traffic flow and a more efficient use of space.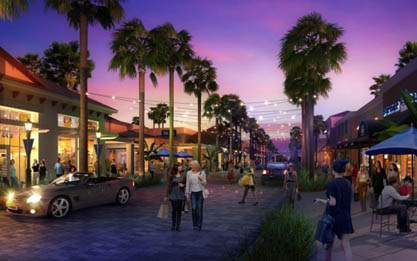 The Pacific theatre building will be demolished since its closing in May 2012, which will possibly add 50,000 sq ft to the North side of the Macy's store. The expansion of the Macy's store is not a sure thing as of yet, the store may choose to not expand. This space also has hopes for a two level parking structure partially underground.
Fry's electronics lease ends in 2016 and is scheduled for demolition when the lease is up. With the freestanding building demolished, this space will be entirely remodled. There is hopes that this corner lot will help create more room more retail space and link the parking throughout the Villlage.
One of the main purposes of the project, is to integrate new buildings within the Shopping Center. There are a of number of tenants who would like their stores located at the Manhattan Village, but as of now, there is no room available for them.
This expansion will give stores a chance for growth. For instance, the Apple Store alone generates the same amount of sales tax revenue for the city as that of a small car dealership, said Finance Director Bruce Moe. This will give the Apple store a great opportunity to expand.
These proposed plans have resulted in a huge amount of review ranging from traffic circulation, added noise, structural heights, and other concerns. This construction project has taken into account the neighbors of Manhattan Village and surrounding areas allowing the community to comment and offer suggestions. There will be a Planning Commission in February 2013 giving public notice of some of the structural silhouettes.
Stay tuned for more information regarding these developments and if you have any comments or suggestions, feel free to submit those comments to the City's Planning Manager Laurie Jester ? City of Manhattan Beach, CA 90266. She can be reached via email at [email protected] and by fax at (310) 802-5501.