Local Business Spotlight: CrossFit Beach Box
Posted by Greg Geilman on Friday, January 24, 2014 at 10:39 AM
By Greg Geilman / January 24, 2014
Comment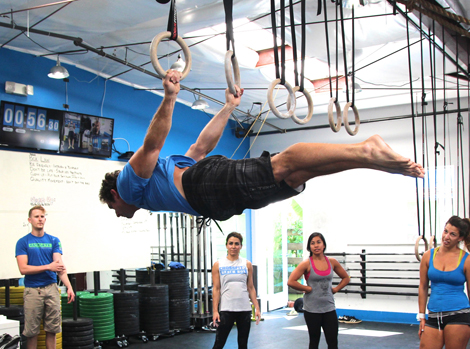 With the New Year comes New Years Resolutions and we're far too familiar with the slump most people hit a few weeks into January.
If wanting to get more active was one of your resolutions, this is the blog for you! This week we're featuring CrossFit Beach Box, a CrossFit box in Redondo Beach.
We sat down with the owner Arbel Meidav to learn more about what the Beach Box is all about.

Q: Tell me a bit about your business.
A: CrossFit Beach Box is a CrossFit box unlike most others. Along with our CrossFit classes, we have a Gymnastic Strength + Movement class and a Barbell Club which is dedicated to helping people improve their Olympic weightlifting.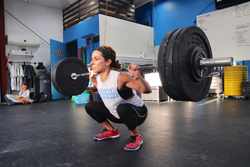 Q: How did your interest in CrossFit initially start/how long have you been doing it?
A: I've been an athlete my whole life and have played just about every sport I've come across. In my early 30's I was looking for more than a traditional gym offered. I had a few friends mention CrossFit to me and I was intrigued. The first time I stepped foot in a box I was hooked. The workout was the hardest I had ever done and I loved it.
Q: What do you love most about what you do/what motivates you?
A: I love coaching people and helping them find the healthiest version of themselves. Lately, on a personal motivation level, I have become obsessed with hand balancing.
Q: How fit do people need to be in order to start CrossFit?
A: This would probably be surprising to most people, but there is no minimum requirement of fitness to start. We scale everything according to the level of the person. We find creative ways for anyone and everyone to get a great workout and help them take small steps on their journey to well being.
Q: What advice can you give our readers that have always wanted to try CrossFit but are intimidated.
A: We all started somewhere. The hardest thing is that first step. Not taking it is much scarier in the grand scheme of things. Sickness and illness in many forms are what can await every person who chooses to be sedentary. The best we can do is move and move often to prevent such things.
Q: What guidance do you guys provide for people that don't really know where to start?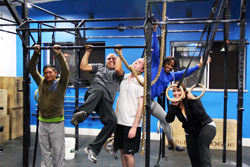 A: We offer an OnRamp course to get people started (OnRamp Class picture to the right). It's a 2-week intro class which meets for 6 total sessions. In the class we introduce the foundational movements we do most often. The workouts are especially scaled back to ease people into what we do.
Q: I've heard you guys host activities outside of classes. Can you tell me a bit more about that?
A: We do all kinds of cool things, from BBQ's to meeting up in Santa Monica to play on the rings, ropes, and all the goodies over there. Our gym is a community and we have a lot of fun together. We encourage our members to get to know each other and try to facilitate human connection in many ways.
Q: What's one of your favorite success stories?
A: There are so many to tell. Some are based on accomplishments and transformations. Suzanne and LT getting their first pull-ups. Mike being able to squat at all – he's had multiple knee surgeries.
Q: Do you provide any specials for new clients if they want to test out your studio?
A: Currently, we are offering 2 free weeks after completing our OnRamp class. So people are essentially getting a whole month of workouts for a very inexpensive rate. We also offer a free class for anyone wanting to get a feel for it without any commitment.
Q: What's one thing you'd want everyone to know about CrossFit Beach Box?
A: We have something very special going here. The people who have joined us all feel it. It's difficult to put into words. The location, the people, the coaching, the offerings, Natureba juice bar in front, it's all combining to make a very unique gym that makes people feel very good.
Please contact CrossFit Beach Box if you're interested in joining!
If you know any local businesses you'd like to see spotlighted, please send us a quick email at [email protected].