Giving Back: Redondo Beach Fire Department
Posted by Greg Geilman on Tuesday, January 20, 2015 at 6:52 PM
By Greg Geilman / January 20, 2015
Comment
Today, we had the privilege of helping temporarily donate an entire home to the Redondo Beach Fire Department! Our clients Joss and Amanda recently purchased an old home in South Redondo Beach.
Instead of simply demolishing it and starting construction on their new house, they agreed to hand it over to the Redondo Beach Fire Department for a couple days.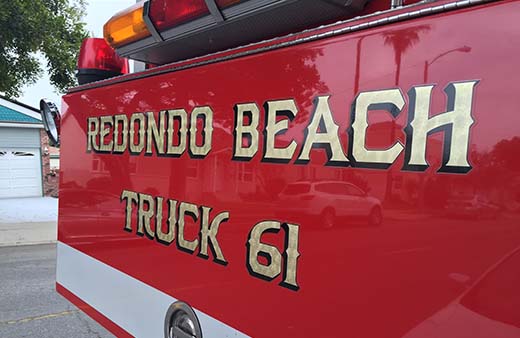 The local fire department will be using the home to train its officers for real life scenarios that they'll encounter on the job. No
amount of equipment or training facilities can truly simulate what it feels like to tear through the walls of a real home.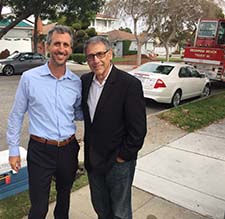 Giving firefighters the ability to cut through walls and knock down a roof in order to gain access to the interior of a home is an invaluable training exercise. Utilizing a real home helps them better prepare for scenarios they might encounter in our Redondo Beach neighborhood.
The generosity of our clients in helping out the community is truly inspiring and has caught the attention of local press. Fox 11 News was on the scene filming and interviewing those involved. Our very own Greg Geilman was interviewed in regards to his involvement in helping plan and execute this great event (Pictured to the right). Trevor Henson was also interviewed in order to get his insights into the event and its benefits to the community. Trevor Henson and Taylor Williams with First Light Development first brought the idea to our clients and helped bring this event to life.
Once the fire department has spent a couple days inside the house training its officers, First-Light Development will come in and knock down the remaining structure. Construction on the home is said to finish before the end of the year.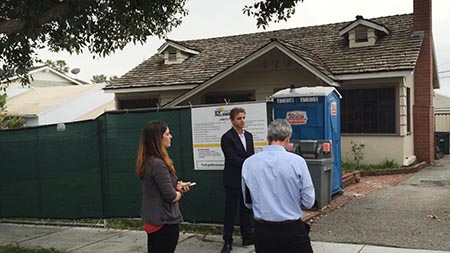 New Construction in Redondo Beach
With so many homes being knocked down and rebuilt in the South Bay, we hope this trend of donating to the local neighborhood catches on and becomes a local tradition. With new recruits needing as much real world experience as possible, being able to facilitate in their training is truly inspiring.
Without the generosity of our great clients, this event wouldn't have been possible. While at the home, our client Amanda spoke about how excited she was to lend her home to the Redondo Beach Fire Department.
If you own a home in the South Bay and are thinking about knocking it down and rebuilding, give us a call! We'd love to be a part of helping the local community.