Fresh Produce and More at the Riviera Village Farmer's Market
Posted by Greg Geilman on Sunday, June 16, 2013 at 9:33 PM
By Greg Geilman / June 16, 2013
Comment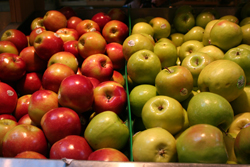 If you're looking for a place to get the freshest ingredients in the area, the Riviera Village Farmer's Market is the right place. This is a weekly outdoor market with plenty of California-grown fruits and vegetables. More than just fruits and vegetables, you can find homemade breads, juices, specialty items and so much more. Not to mention, you get to shop with the Pacific Ocean in plain sight.
With over 300 shops, services and restaurants found in the Riviera Village, this is considered one of the best markets in the Los Angeles area. South Bay is full of great shops, but this market is second to none. With great food, gifts, fashion and even spa treatments, you can enjoy your Fridays here. This market is perfect for singles, dads, moms, families, teens, college students, seniors and kids. Everybody is welcome and will enjoy this farmer's market.
Throughout the year, you can even enjoy a few special events at the Riviera Village. The Summer Festival will happen June 29th and 30th, the Village Runner 4th of July 5K is another great event held her and you can even enjoy the Halloween Trick or Treat event.
Whether you want to enjoy time with your friends or you want to pick up all your fresh produce, this is the best place for you. You might run into friends or people you know, while enjoying a great lunch.
The market opens on May 10th from 3pm to 7pm. It will also be open on May 17th, 24th, 31st, June 7th and June 14th. These are all the upcoming dates and more will be added throughout the summer. The market is always open on these dates from 3pm to 7pm. If you want the best and freshest ingredients for your next home cooked mealy, come down to the market.