California Real Estate Magazine's Interview with Greg Geilman
Posted by Greg Geilman on Monday, September 30, 2013 at 12:28 PM
By Greg Geilman / September 30, 2013
Comment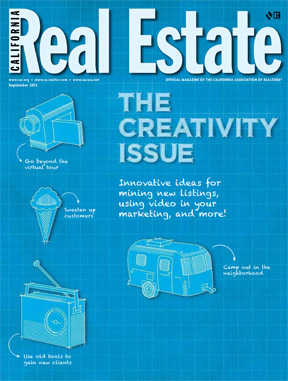 If you've been keeping up with our blog, you've probably caught onto our passion for technology. We were recently approached by California Real Estate Magazine and asked about how we use technology to improve the quality of service we give our clients. They published us in their September issue titled The Creativity Issue, where they highlighted the innovative approaches many Realtors are using. You can read the full article about the interview with Greg Geilman.
Thanks to Greg's technology background, the first thing that crosses our minds when we hear about new and innovative tech is how it can help improve our client service. Technology is a great tool to use in our day-to-day lives but we think we'd be doing it a disservice if we never fully integrated it into the many facets of our lives.
The article excerpt touches on the many different types of technology we've used in the past. Greg's adventure with Google Glass was a big hit when we blogged about how he used it to give our client a live virtual tour of a property they couldn't physically come down to view. Because home buying can be so time consuming and overwhelming for some people, being able to simplify it as much as possible is one of our main goals when working with our clients.
Another tool we really like to use is Videolicious. It's an app that allows us to quickly take and edit videos so that we can send them to our clients. When we use these tools, we always try to put ourselves into our client's shoes. How incredible would it be if your realtor had the ability to send you quick, short videos of the different properties you were interested in? Although personal walk-throughs of properties are always better than video tours, these tools are great to use for clients that are out of town or short on free time.
What types of technology would you want your realtor to use if you were searching for a home? Would you opt for a video tour over an in person walk-through if you were interested in a property?