Barsha Pairs Tapas with Wines Perfectly
Posted by Greg Geilman on Monday, April 29, 2013 at 10:31 AM
By Greg Geilman / April 29, 2013
Comment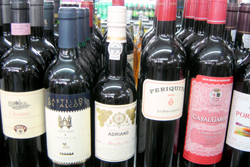 Manhattan Beach is home to Barsha, one of the finest wine shops in the area. This shop is run by husband/wife partnership of experienced chefs. When you first arrive, it's like walking into a welcoming home perfectly decorated with fine wines. Adnen, the husband is also a sommelier and brings in some of the highest-quality wines found throughout the state. Lenora, the wife acts as the head chef and creates delicious tapas and salads perfect for the wine. This pair has worked throughout North Africa, Beverly Hills, Las Vegas and Europe before opening the shop.
If you enjoy small batch wines, you will love Barsha Wine and Spirits. They provide over 30 wines for sampling and each Tuesday, you can choose between two different flights of wines suited to a specific theme. These flights feature wines from specific areas, such as the "Down Under" with wines from Australia, Chili and Argentina.
The small plate tapas are paired with each of the wines to give you the best possible dining experience. One of the feature tapas, Marouani's Bread and Butter is perfect for pleasing the palette. This dish is basically homemade tapenades with crusty bread. Many other tapas are available with a Mediterranean and European influence. There's plenty to choose from and the couple will make recommendations for the right wine and tapas combination.
Barsha Wine and Spirits also offers the Barsha Wine Club. This club is perfect for wine lovers and provides a two-bottle monthly selection, tasting room discounts and many other benefits. Visit the tasting room Tuesday, Wednesday and Thursday from 4 to 6pm for the WINE DOWN happy hour. You can enjoy wine flights for only $7 and many other specials. The Tasting Room is open Tuesday through Sunday from 11am to 9pm.